Divinity Code & Awakening the Prophetic Through Dreams and Visions (Digital Download Book & Audio) by Adrian Beale & Adam Thompson; Code: 9325D
Divinity Code & Awakening the Prophetic Through Dreams and Visions (Digital Download Book & Audio) by Adrian Beale & Adam Thompson; Code: 9325D
Your Dreams Are Less Mysterious and More Awesome Than You Think.
The Divinity Code. (Book) Just as Joseph and Daniel partnered with the Holy Spirit to gain understanding, so can you. With this book of master keys, you can unlock your God-parables, learn from them and even recognize when God has given you a warning! The Divinity Code's powerful tools include:
The most extensive Christian dream dictionary ever assembled (with Scripture support).
An important dictionary of names and places.
A critical chapter on counterfeit interpretations by the occult.
101 interpreted dreams showing actual results.
An invaluable metaphor dictionary.
It's time to embrace your God-parables. God wants you to understand what your dreams are saying!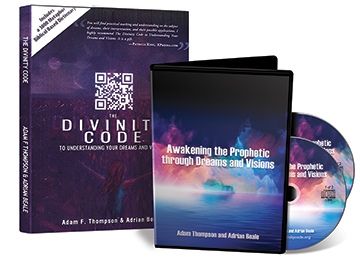 Awakening the Prophetic Through Dreams and Visons. (Audio Series) Adam Thompson and Adrian Beale bring you powerful messages on interpreting dreams and visions. Among questions they answer:
Why did Jesus teach in parables?
What is the importance of context?
Where does coincidence fit in?
What is alpha sleep?
Adam and Adrian empower you to recognize different manifestations of the voice of God!
Adrian Beale and Adam Thompson are internationally recognized for their gifts in interpreting the voice of the Spirit in dreams, visions and supernatural phenomena. Both are from Australia and have many years of ministry there and overseas.
---