The Unfair Advantage (Digital Download) by John "Robby" Eddy; Code: 3819D
The Unfair Advantage (Digital Download) by John "Robby" Eddy; Code: 3819D
My Story of Conquering the Beast of Addiction
The Unfair Advantage is the edge-of-your-seat story of John "Robby" Eddy, a former federal prisoner whose crimes made national headlines.
But Robby's conviction was just the tip of the iceberg. "I had been arrested forty-five times, almost died a violent death on several occasions (once by contract killing). I had ravaged my mind and body with powerful drugs and nonstop drinking for years, OD'd twice, once to the point of looking down on my coding body as the paramedics frantically applied the defibrillator paddles in the ambulance."
All before his twenty-ninth birthday.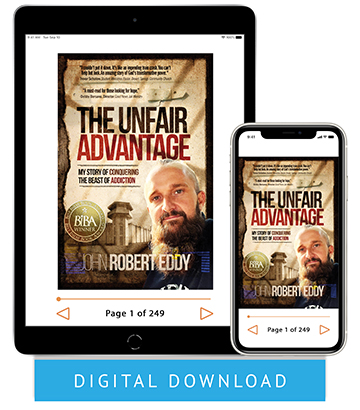 Then one night on a cold jail cell floor, Robby found The Unfair Advantage that turned his world around! Today he is ten years sober, with a beautiful wife and family, a prosperous business and an all-in mission: to help others find the freedom he discovered.
Robby's 100% hair-raising tale is told with a transparent honesty that will move and thrill your heart.
The Unfair Advantage: My Story of Conquering the Beast of Addiction also has the power to change lives.
John "Robby" Eddy is a former federal convict with a long list of arrests, addictions, jail stints, five DUI's, two OD's, and years of raging alcoholism. Robby's life has been miraculously transformed by the stunning power of God and the daily practical application of the Twelve Steps.
---