A Fasted Life (Digital Download) by Philip Renner; Code: 3794D
A Fasted Life (Digital Download) by Philip Renner; Code: 3794D
Fasting: Your Open Door to the Supernatural
If you are searching for more, or sense something is amiss in your relationship with God, it probably is. Fasting is the doorway to change that! 
Revivalist Phil Renner says that fasting does not change God, but it will change you. It's not about food you do not eat. Rather it is quieting your flesh to say yes to the voice of God.
Phil shares how fasting aligns you with God. Along the way it unlocks God's purposes and plans for you. Out of the relationship with God that comes with fasting, questions get answers, needs are met and your heart is satisfied.
A Fasted Life offers…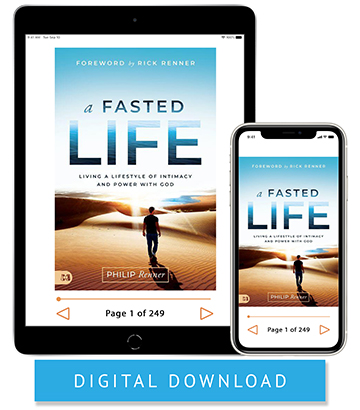 • How fasting accesses God's power and glory
• Bible examples of fasting to receive strategies, activate angels and halt enemies
• The connection between fasting and prayer
• How fasting releases breakthrough, healing and favor
Fasting can become a part of your life, and it is easier than you think!
Philip Renner is a missionary, author, worship leader, revivalist and songwriter. He serves as worship leader at Millennial Church, Tulsa, OK, and his media appearances include CCM Magazine, TBN Praise, Lesea TV Harvest Show, Worship With Andy Chrisman, Atlanta Live TV, Tulsa World, Cross Rhythms UK, TBN UK and Premier Radio UK.
---