Operating in the Courts of Heaven (Digital Download) by Robert Henderson; Code: 3771D
Operating in the Courts of Heaven (Digital Download) by Robert Henderson; Code: 3771D
Granting God the Legal Right to Answer Your Prayers
Robert Henderson's updated and expanded teachings!
Operating in the Courts of Heaven has supernaturally transformed lives all over the world. This new edition is Robert Henderson's how-to blueprint for engaging the Courts of Heaven. 
Robert says you have a voice and you certainly have access to God.
Whether it is a matter of unanswered prayer or delayed breakthrough, God is a Righteous Judge. You have standing to come before Him.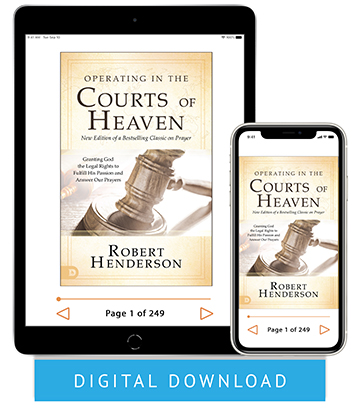 Among highlights and new material, Robert presents a framework that shows you how to enter God's Courts. And he answers common questions, including how to:
Engage 3 dimensions of experiencing God as Father, Friend and Judge

Shift from "battlefield" to "courtroom"

Apply Jesus' finished work on the Cross

Understand how to remove generational curses

Confront legal accusations against you

Unlock your book of destiny
God's Courts exist for the sake of His Holiness and your Kingdom rights. But you must learn how to be heard in Heaven. Will God hear your case? Robert's updated and expanded teaching gives you real testimonies of real results!
Robert Henderson is recognized for his passion to bring apostolic alignment to the church and the business world. The author of several books, he has been in ministry for 30 years. He and his wife Mary reside in Waco, Texas.
---