Kingdom Thinking (Digital Download) by Joe Joe Dawson; Code: 3763D
Kingdom Thinking (Digital Download) by Joe Joe Dawson; Code: 3763D
You Are Invited to Think and Live the Kingdom Way
You might be surprised what goes through your mind without ever asking permission. Are those thoughts really yours? No!
Joe Joe Dawson says a little self awareness goes a long way, and his new book, Kingdom Thinking, can literally turn your world right side up!
Joe Joe makes no apologies. He says: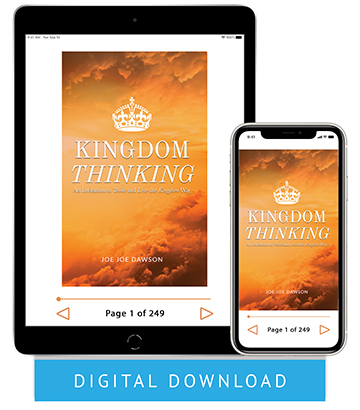 • Where your thoughts lead, your life will follow
• What consumes your thoughts controls your outcomes
• Wrong thinking leads to delays, roadblocks
• YOU can confront wrong thinking
Joe Joe Dawson says thoughts become actions. BUT your mind is set apart for God—not negativity. It's time to take back everything the enemy has stolen. (73 pages)
Joe Joe Dawson is founder and apostle of Roar Apostolic Network and Roar Church Texarkana. He empowers believers to accomplish the call God has placed inside of them and to walk in personal revival.
---