Dangerous Prayers from the Courts of Heaven & Destroying Evil Altars (Digital Download) by Dr. Francis Myles; Code: 9765D
Dangerous Prayers from the Courts of Heaven & Destroying Evil Altars (Digital Download) by Dr. Francis Myles; Code: 9765D
Unholy altars must go!
In Dangerous Prayers from the Courts of Heaven, Dr. Francis Myles teaches you to tear down unholy altars, breaking free from areas of sin and bondage. These altars may be invisible but they give darkness access to your life!
Francis points you to the Law of Dominion to explain how spirits operate—they understand it, but often we don't!
His Dangerous Prayers will help you tear down • Infirmity and sickness • Sexual perversion • Familiar spirits • Poverty • Depression • Witchcraft • Barrenness • Trauma • Marriage breakers and more.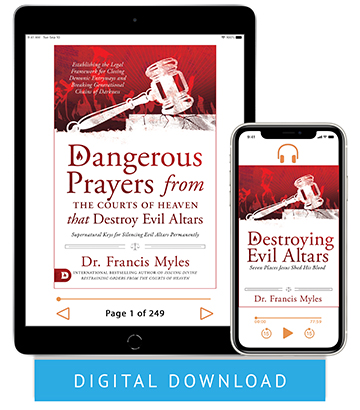 In his 3-part audio teachings, Destroying Evil Altars, Francis shows you "Seven Places Jesus Shed His Blood." As you visit each one he helps you understand that what was broken in Adam's fall is made new in Jesus. Francis wants you to reclaim vital spiritual ground to:
• Dissolve any illegal blockages
• Destroy any evil assignments
• Uproot generational issues
Nothing is more dangerous than a prayer God wants to answer! And satan knows it.
Includes 7 Drops of Blood bookmark with Communion meditation.
Dr. Francis Myles is a multi-gifted international motivational speaker and apostle to the nations. He is the senior pastor of Lovefest Church International in Tempe, Arizona. He and his wife, Carmela Real Myles, reside in the Phoenix AZ metroplex.
---