We're Not Colorblind (Digital Download) by Dr. Alveda King & Ginger Howard; Code: 3615D
We're Not Colorblind (Digital Download) by Dr. Alveda King & Ginger Howard; Code: 3615D
Healing the Racial Divide
Ginger Howard and Evangelist Alveda King approach the current discussions on race relations with prayer, candor and soul stirring testimonies.
Alveda and Ginger speak directly to the healing that America lacks today. It is needed, but we must choose to receive it.
"People are of one race, of one blood. We appreciate the differences and beauty in people we encounter. We're not color blind, each of us brings a little something different; yet we're still one people."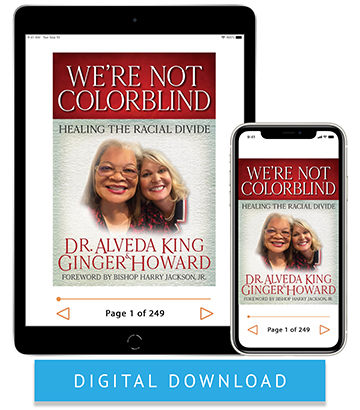 Alveda C. King is a creative Christian evangelist, author and civil rights activist. She is a presidential appointee and spiritual advisor for the Trump National Diversity Coalition, and a television and radio personality. Alveda is the daughter of Rev. A. D. King and Mrs. Naomi King, the granddaughter of Rev. Martin Luther King, Sr. and Mrs. Alberta Williams King, and the niece of Dr. Martin Luther King, Jr.

Ginger Howard is a beloved motivator and former co-host of Freedom Five, a popular radio talk show. She is a gifted speaker, former political consultant and two term National Committeewoman for The Republican Party of Georgia. Ginger has been active in grassroots politics for the last two decades.
---