The King's Decree & Releasing Heaven's Decrees (Digital Download) by Jodie Hughes; Code: 9704D
The King's Decree & Releasing Heaven's Decrees (Digital Download) by Jodie Hughes; Code: 9704D
Can You Make Heaven Thunder?
Many believers don't know where to begin their conversations with God. But what if you transitioned from one-sided conversations into dynamic, supernatural encounters with the King of Heaven?
Jodie and Ben Hughes were leaders and hosts of the Pineapple Revival—a powerful Holy Spirit outpouring in Australia. But during its days, Jodie found herself in the midst of an intense personal struggle, including a major battle for her health. Weighing a mere 80 pounds, Jodie came out of her adversity and the principles she learned were tested and proven.
The King's Decree is an invitation to enter Heaven's throne room, hear God's (thunderous) voice and speak those words in earth's realm. When we pray the words of Heaven, God watches over His word to perform it!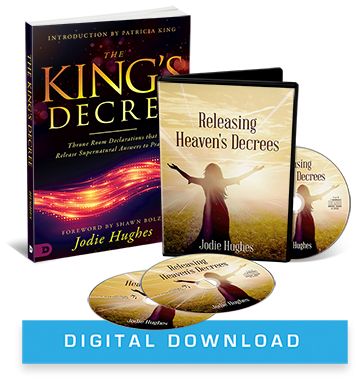 In her powerful book Jodie teaches you how to…
• Hold a "tent of meeting" encounter with God
• Make declarations that represent the Voice of God
• Translate Heaven's words into Kingdom decrees
• Release supernatural life into strongholds of darkness and oppression
Jodie mentors you as you develop your voice for declarations, and it will upgrade your spiritual life! Then her exclusive 3-part audio series, Releasing Heaven's Decrees, goes even deeper on how to release decrees and bring the Kingdom of Heaven into any situation. Especially yours.
Jodie Hughes is a revivalist and co-founder of Pour It Out Ministries. Along with her husband Ben and daughter Keely, the family has travelled extensively throughout the world, igniting revival for more than 20 years, including Australia's recent Pineapple Revival. They now live in Dallas, Texas.
---