Walking in Discernment (Digital Download) by Rebecca Greenwood; Code: 9710D
Walking in Discernment (Digital Download) by Rebecca Greenwood; Code: 9710D
You can sense the movement of God's Spirit. And unwanted spirits too!
Becca Greenwood believes the most overlooked key to your relationship with God is discerning what spiritual forces are at work around you. When you can both sense the movement of God's Spirit and identify unwanted activity, you can speak out with power!
In Discerning the Spirit Realm, Becca Greenwood offers her latest keys for standing your ground and engaging the unseen realm. Rebecca helps you…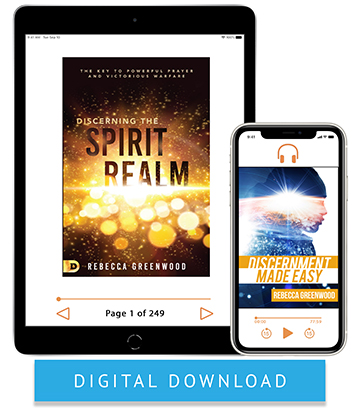 Recognize when unfriendly forces are at work—and shut them down.

Walk in greater discernment without adopting a critical spirit

Recognize essential cues from the natural realm
Becca says the gift of discernment is easily cultivated. Her 2-part audio series, Discernment Made Easy, can make a difference from Day One.
She also helps you shake off all-too-common hindrances—unwanted thoughts, desires and emotions that can cloud your spiritual life. Rebecca's 64-page reference guide, Breaking Strongholds, gets right to the point and gives you these essential insights—
• How strongholds get established • The powerful role of forgiveness • How to repent and renounce • How to break soul ties and shake off traumas • How to recognize areas of strongholds then get free
Becca also reminds you that you have a voice. It's the most powerful gift of all!
Rebecca Greenwood co-founded Christian Harvest International, which has ministered to the nations through prophetic intercession, warfare prayer and teaching of the word of God over the past 24 years. Rebecca and her husband Greg, reside in Colorado Springs, CO.
---