Mystery of the Power Words & You Can Outlast the Devil (Digital Download) by Kevin Zadai; Code: 9723D
Mystery of the Power Words & You Can Outlast the Devil (Digital Download) by Kevin Zadai; Code: 9723D
Speak the words that make hell tremble!
Kevin Zadai says there are words straight from Scripture that paralyze the devil. They defeat unseen powers, release healing, accelerate increase and bring down strongholds.
Kevin calls them power words…and he says satan wants them removed from your vocabulary. 
In his book, Mystery of the Power Words, Kevin brings laser sharp focus to the words you speak. You will: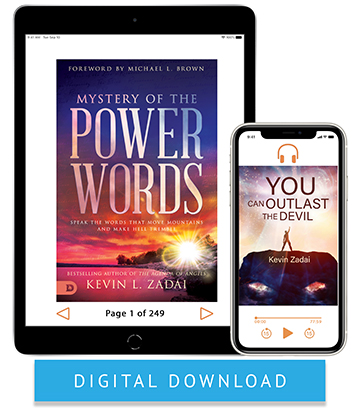 Access the unharnessed power of Heaven according to God's will for your life

Take hold of

what God wants you to understand and then boldly speak

Clearly discern hindrances to your advancement

Establish the bridge between praying in tongues and Kingdom dominion
Kevin's 3-part audio series, You Can Outlast the Devil, takes you directly into applying power words to your life. Kevin gives you a clear explanation of the devil's strategy against you, then equips you to stop satan in his tracks. Kingdom—Authority—accomplished!
Kevin Zadai is a licensed pilot who God told to be a flight attendant. Over a long career with a major airline, the former employee-of-the-year ministered to its passengers daily, carrying the Glory of God as he worked. Today Kevin is retired, but he is still a busy traveler, including frequent trips to Heaven.
---