Experiencing God's Power and Glory & Show Us Your Glory (Digital Download) by Diane Nutt & Robert Henderson; Code: 9766D
Experiencing God's Power and Glory & Show Us Your Glory (Digital Download) by Diane Nutt & Robert Henderson; Code: 9766D
Broken vessels carry the power and Glory of God.
Hardships do not define your life, or how God delights in you. Diane Nutt knows it well!
For years, Diane struggled with the trauma of her childhood, but she overcame it with Jesus.
Now her 4-part audio series shares Diane's most precious teachings on God's Glory. In intimate detail, Experiencing God's Power and Glory opens up the workings of Diane's walk with Father God, as she gives you: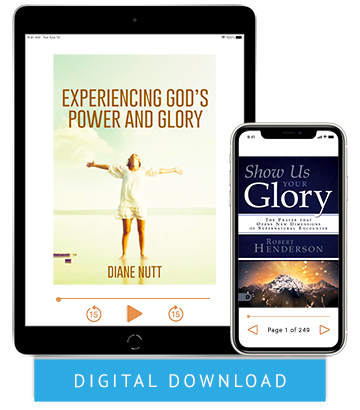 • Understanding of God's Glory and how to invite His Presence
• Clear examples with the power to change your life
• An open door for you to move with God in His next great move
Diane says that you can always live around the edges of God's Glory, but it is better seek it and stay in it. Diane literally wakes up and goes to sleep in Glory. Your God and His Glory are just as available to you!
Diane's friend Robert Henderson agrees. In his book, Show Us Your Glory, Robert adds his insights from 5 revelations of God's Glory in Exodus 33. Robert says you can become fully inhabited by His Glory. And you won't want to leave.
Diane Nutt co-pastors Church of His Glory with her husband, Kenneth, and is founder/president of Dove Ministries in Rockwall, TX. Diane and Kenneth have two children and six grandchildren.
Robert Henderson is recognized for his passion to bring apostolic alignment to the church and the business world. The author of several books, he has been in ministry for 30 years. He and his wife Mary reside in Waco, Texas.
---