Encountering the God of Glory (Digital Download) by Derrick Snodgrass; Code: 3785D
Encountering the God of Glory (Digital Download) by Derrick Snodgrass; Code: 3785D
If God's not in the living room, try your closet.
Derrick Snodgrass learned that when God hides, it's because He wants to be found.
In his 5-part audio series, Encountering the God of Glory, Derrick shares the wisdom he learned along the way to finding God. Derrick regularly experiences supernatural encounters. He has something to say! But he also knows what it means to get stale or have a dry season.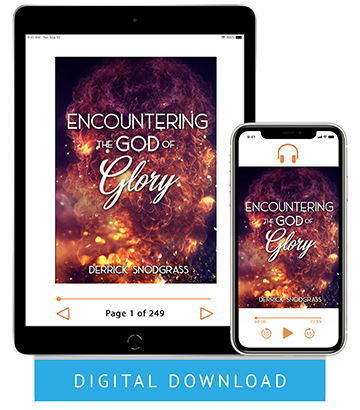 Derrick's teachings include:
• Desperate for the Glory
• Positioning Yourself for Encounters & the Power of Prayer
• Miracles Behind Closed Doors
• The Supernatural Power of Tears
• I Refuse to be Denied
Derrick says the God of the Secret Place wants to be found. It is impossible for God to leave you empty and unfulfilled. When God wants you to seek Him, it's up to you to refuse to be denied.
Derrick Snodgrass is a charismatic leader, visionary, innovator, trail-blazer and a spiritual guide who serves as the senior and founding pastor of Spiritual Prosperity Enrichment Center, a vision God gave him at the age of 16.
---