Pressing into the Holy of Holies & Priestly Prayer of Cleansing and Consecration (Digital Download) by Warren Marcus; Code: 9806D
Pressing into the Holy of Holies & Priestly Prayer of Cleansing and Consecration (Digital Download) by Warren Marcus; Code: 9806D
You are seated in Jesus in Heaven. Holy Spirit lives on earth in you!
Think about this! God made your body to be the Temple of the Holy Spirit…where He lives! It's called bi-location. You are seated in Heaven in Jesus. Holy Spirit is on earth living in you!
Discover your Royal Priesthood
Warren Marcus became so curious about this it led him to want to know more. Revelation followed! In Priestly Prayer of Cleansing and Consecration, Warren's latest DVD teaching, he invites you to discover:
• The relationship between the Tabernacle of Moses and the New Covenant Temple (you)!
• How to prepare (cleanse) your body to receive God's Presence
• How to set yourself apart to be a channel for God's blessings
• Includes Warren's Daily Prayer of Consecration
As he went deeper, Warren realized he (you) could go beyond the Courts of Heaven. The Holy of Holies was available to every believer, and for good reason! God wants more relationship with you.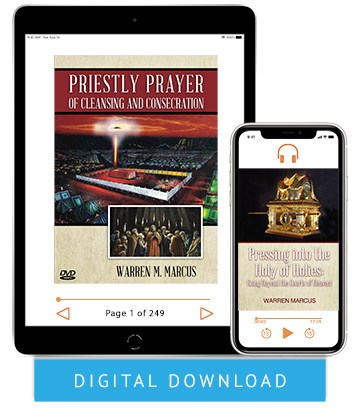 Face to face conversations with God
In Pressing into the Holy of Holies, Warren's 3-CD/audio series, he explores the hidden parallels in the Old Testament that every believer has access to:
• The Heavenly Throne Room
• Deeper relationship and favor with the Father
• Face to face conversations with God
They represent the full power and favor of your inheritance…your New Covenant blessings! That's the power to change your life.
 (Watch or download Warren's video teaching via a Vimeo link that you will receive after purchase.)
Warren M. Marcus is a Messianic Jewish believer and Spirit-filled evangelist. An avid student of the Bible, Warren specializes in the Jewish roots of Christianity. He also oversees production of It's Supernatural! TV as vice president of Sid Roth's Messianic Vision.
---