Decrees That Unlock Heaven's Power & Unlocking Heaven's Power (Digital Download) by Tommy & Miriam Evans; Code: 9792D
Decrees That Unlock Heaven's Power & Unlocking Heaven's Power (Digital Download) by Tommy & Miriam Evans; Code: 9792D
Getting Real with God's Spoken Word!
Tommy and Miriam Evans want to start a conversation between you and Jesus that will launch you into the Year 2022—releasing the life and power of God's spoken Word into every area of your needs.
In Decrees That Unlock Heaven's Power, Tommy and Miriam make it simple. It's just you and Jesus keeping up a 40-day encounter…that will release Heaven into your life and the world around you. They help you focus on the things you need to talk about right now!
Daily entries include what God personally says about you, devotional readings, powerful decrees and Scripture references for when you want to go deeper.
The goal is to do nothing less than activate a whole new level of answered prayers, healing and supernatural protection in your life!
The idea isn't to pray harder, but to relate to Jesus more. The 40 inspirational entries address topics including: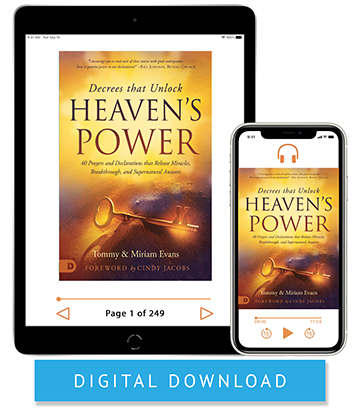 Releasing the miraculous

Partnering with Heaven's power

Taking hold of healing

Activating gifts

 

Discerning God's voice

Establishing

supernatural protection
Jesus bought you an inheritance. It is up to you to take hold of it! This offer includes the 3-part audio series Unlocking Heaven's Power to help you do it.
Miriam Evans travels travels nationally and internationally for revivals, miracle services and conferences. Her and her husband are the founders of Revival Mandate International whose mission is to see Jesus glorified through the power of the Holy Spirit.
---