2022 And You! What's Coming? (Digital Download) by Cindy Jacobs; Code: 3773D
2022 And You! What's Coming? (Digital Download) by Cindy Jacobs; Code: 3773D
Ordinary people do extraordinary things for God!
Cindy Jacobs' recent "Word of the Lord for 2022" conference brought forth treasures both old and new (Matt. 13:51). So along with its banner of uncompromising truths, there also came flows of fresh revelation.
Many powerful words pointed to the move of God we are expecting for 2022. And there was renewed emphasis on awakening and transformation that will overtake the broken culture of our day.
With her 4-part audio series, 2022 and You!, Cindy makes it real—if God is not a respecter of peoples, nations or governments, who will lead the way? We may not understand God's timing, but she points to the last decade of prophecy—it is due to come to pass.
Cindy says the catalyst is nothing less than your relationship with Father God. He must be first in priority. But, as you are faithful to spend time with Him, you must also be faithful to: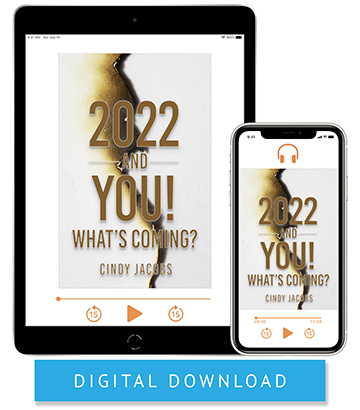 • Speak up for Godly change in your community and nation
• Renew your covenant bond with Jesus as Lord
• Hear from God yourself and declare it
• Ask Holy Spirit for heart change, first you, then family
Cindy reminds us that if we want God to send breakthrough and change while we watch…God will move without us. Whatever your needs may be, God's breakthrough is meant to move through you. Ordinary people do extraordinary things for God!
Cindy Jacobs and her husband, Mike, are the founders of Generals International, a worldwide ministry that works to achieve social transformation through intercession and prophetic ministry. They reside in Dallas, Texas.
---