10 Levels of Glory (Digital Download) by Hrvoje Sirovina; Code: 9771D
10 Levels of Glory (Digital Download) by Hrvoje Sirovina; Code: 9771D
With God, you can always go deeper!
NEVER settle for less of God, and never settle for where you are now!
Hrvoje Sirovina says God isn't limited by our limited perspective. So how do you get to where God wants you to go?
Hrvoje says it is your daily experiences that carry you forward because God will stretch you. He causes you to live an increasingly extraordinary life in the midst of an ordinary world—if you simply continue to say "more, Lord."
In 10 Levels of Glory, Hrvoje guides you through powerful encounters with God's tangible presence. 
Hrvoje puts each of these ten levels into words you can understand and to a degree, experience: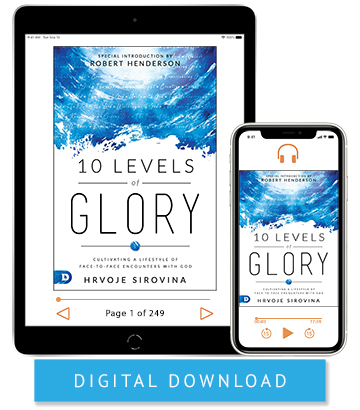 • Creation
• Signs and Wonders
• Experiencing God
• Knowing God
• Seeing God
• The Fear of the Lord
• Walking with God
• The Face of God
• Unity with God
• The Unapproachable Light
These encounters stir up your hunger and a greater awe of the Lord, two things that move God. Hrvoje says God never stops calling, and he has lived it. You can too.
Hrvoje Sirovina and his wife, Ise, are founders and leaders of the apostolic-prophetic house, Internationale Gemeinde Esslingen, a local church in Germany, as well as their international ministry called HIS Ministries. They reside in Esslingen, Germany.
---