This Week's Television Guest: Sid Roth – Favor
Sid shares the most significant word from God he knows that will change your life dramatically. Sid says, "If you heed the word you will walk in the favor of God no matter what happens on planet earth.  
Give to Project 77: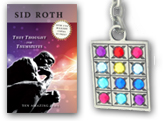 Help us reach Jewish people with the Gospel.
For your gift of $77 or more we send 7 evangelistic books to 7 Jewish people. You will receive a copy of They Thought for Themselves (book). You also receive a beautiful key chain replica of the High Priest's Breastplate.
Make your gift online!
---