Two Copies of The Healing Scriptures (Book & 2-CD Set) by Sid Roth; Code: 9319
Two Copies of The Healing Scriptures (Book & 2-CD Set) by Sid Roth; Code: 9319
Get One for Yourself and One for a Friend!
Get ready to TAKE your healing by meditating on God's promises with our highly anticipated resource including:
The Healing Scriptures book
An interactive audio reading of The Healing Scriptures by Sid against a backdrop of soaking music by violinist LaDonna Taylor (CD)
A powerful teaching by Sid on healing and miracles that will coach you on how to be "normal" as defined by the Bible (CD)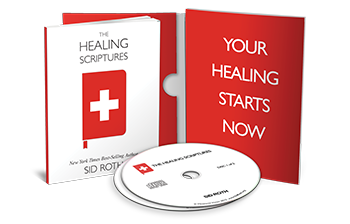 The Healing Scriptures is more than just a book for you to read. This is a powerful tool to grow your faith and usher you into an experience with God that brings healing to your whole person.
The Healing Scriptures book contains:
Personalized healing Scriptures that Sid has selected for you to meditate on and pray over your life
A teaching on faith and how to appropriate the promises of God for yourself
A Q&A section where Sid answers the most common questions on healing and miracles
True, inspirational healing testimonies to help grow your faith
Praise for The Healing Scriptures
"This is a powerful tool that I expect will result in multitudes of healings and miracles. Every believer should have a copy of this book so they can constantly refer to it. I know I will." — Rick Joyner, MorningStar Ministries and Heritage International Ministries
"I want to encourage everyone to read this book OUT LOUD! It will go into your spirit by reading it; it will go into ALL of your body by reading it out loud." — Joan Hunter, Author/Healing Evangelist
"Having been in the healing/miracle ministry for over 23 years I can honestly say this book has it all and will revolutionize and skyrocket your faith as you take a quantum leap into healing." — David Herzog, Author, Glory Invasion
"If you or anyone you know needs physical healing, then this book is a must for you now. I highly recommend this book to anyone, but especially to those who desire to grow in faith and experience of God's supernatural healing." — Craig Hill, Founder, Family Foundations International
"Once you embrace these Scriptures and put your faith to the test, you will walk in a new normal — a normal marked by healing, miracles, signs, and wonders as defined by the Bible." — Kynan Bridges, Pastor, Kynan Bridges Ministries
---