The 7 Places Jesus Shed His Blood (Digital Download) by Larry Huch; Code: 3651D
The 7 Places Jesus Shed His Blood (Digital Download) by Larry Huch; Code: 3651D
Your Covenant Blessings Are Found Here
In one of his most powerful teachings, Pastor Larry Huch shows you how Jesus shed His blood not just one time, but seven different times so that you could be redeemed in every area of life!
Every believer knows Jesus died on the cross so that our sins could be forgiven. However, most believers have not been taught the fullness of what Jesus accomplished.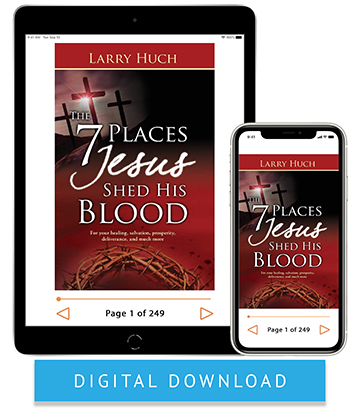 Pastor Larry Huch takes you on a remarkable journey through the last days of Jesus' life on earth. From the Garden of Gethsemane and the whipping post, to the crown of thorns, Calvary and more, you will discover how each place connects you to all 7 redemptive blessings!
They position you to overcome obstacles in every area of life through the power of your Messiah's blood. These are covenant blessings, rightfully yours once you grasp the revelation!
Larry Huch is the founder and senior pastor of New Beginnings in Bedford, Texas and he is also known as co-host of the television broadcast New Beginnings With Larry & Tiz Huch. Larry is a recognized authority on the Hebrew roots of the Christian faith.
---