Supernatural Upgrade & Sounds of Glory (Digital Download) by Chazdon Strickland; Code: 9826D
Supernatural Upgrade & Sounds of Glory (Digital Download) by Chazdon Strickland; Code: 9826D
Moses first encountered God at the Burning Bush…
Yet when Moses brought the people back to Mt. Sinai, the whole mountain was on fire. Who was more excited, Moses or God?
God's plan from the beginning is God's plan today, but it begins with YOUR personal hunger to know God more: Show me Your Glory, Lord!
In Supernatural Upgrade, Chazdon Strickland offers powerful teaching and testimony to help you:
• Attract the fire of God
• Cry out like Moses
• Walk in fullness as God's offspring
• Be part of Jesus' Resurrection Glory
Long before Jesus, the prophet Joel saw a day when the knowledge of God's glory would flood the Earth. That flood begins with you!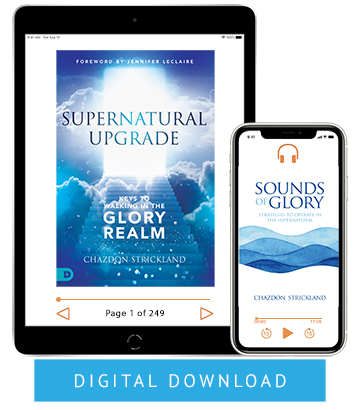 Chazdon goes on to share how even the Sound of Glory (his 3-part audio series) carried him from his out-of-control life and transformed it…releasing an ongoing miracle explosion. He says that's your God and He will have His way. God already sees the day when you:
• Move from theory to demonstration
• Discover how to partner with Heaven's Windows, Gates and Doors
• Position yourself for God to move in signs and wonders
Until then, Chazdon urges you to keep reminding yourself…the whole mountain was on fire with the Glory of God.
Chazdon and Emily Strickland are leaders of Ignite the Nations, Jacksonville, FL, and their mission is to see the fullness of God in the corporate church with believers moving in the supernatural power of God.
---