God's End-Time Temple & 7 Steps to Hearing the Voice of God (Digital Download) by Tracy Eckert; Code: 9716D
God's End-Time Temple & 7 Steps to Hearing the Voice of God (Digital Download) by Tracy Eckert; Code: 9716D
What did the foolish virgin say to the wise virgin?
Tracy Eckert says it's time to put distractions in their place and prepare your heart for the return of Jesus. You will be ready, or not!
Tracy lays out a powerful, simple sketch of the end-time Church. Her new book, God's End-Time Temple, rises above current events and mainstream media. She carries you straight to the biblical accounts of Zerubbabel, Haggai, Zechariah and Melchizedek to show you God's plan.
Tracy also shows you how to prepare your heart with a collective purpose in mind. It means putting aside every hindering distraction. Because it is your focus that God wants.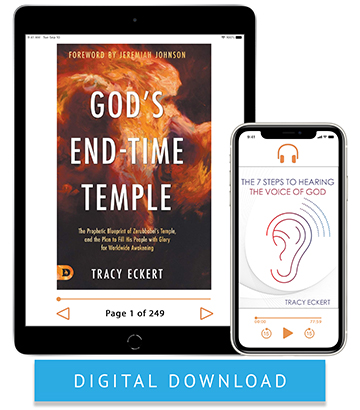 As both a pastor and marketplace leader, Tracy shares her surprising journey as the Holy Spirit detailed God's blueprint for His "capstone generation." What is on the table? Tracy points to:
100-fold fruitfulness in prayer

Discernment of "signs of the times"

Bearing fruit that remains in your sphere of influence

Increased transformation in your own life

Encounters of unprecedented Glory
God's is looking for a Kingdom of priests and kings, and Tracy's 3-part audio series, 7 Steps to Hearing the Voice of God, will help you move forward.
Tracy urges you to start identifying your distractions now, not at midnight. She says God plans to sovereignly fill His Temple for the return of Jesus, and you already hold your invitation!
Tracy Eckert is executive pastor and co-founder of Storehouse Dallas, a house of prayer and church committed to establishing worship, prayer and transformation. Tracy and her husband, John, have 7 children and 13 grandchildren.
---