A Rabbi's Journey to Heaven & Heaven and Beyond (Book & 2-CD Set) by Rabbi Felix Halpern; Code: 9754
A Rabbi's Journey to Heaven & Heaven and Beyond (Book & 2-CD Set) by Rabbi Felix Halpern; Code: 9754
Felix Halpern had to die to learn how to be alive.
Rabbi Felix Halpern suddenly died but it was only a new beginning for how Felix relates to God in his daily life now.
In his new book, A Rabbi's Journey to Heaven, and 2-CD/audio series, Heaven and Beyond, Felix gladly shares on the splendors of Heaven, but you quickly realize he is focused on something greater—the overwhelming Glory of God available to you NOW.
What Felix discovered on his journey was a new kind of discernment—the difference between his spirit and his soul. And out of the things Heaven imprinted on Felix's soul, he now shares: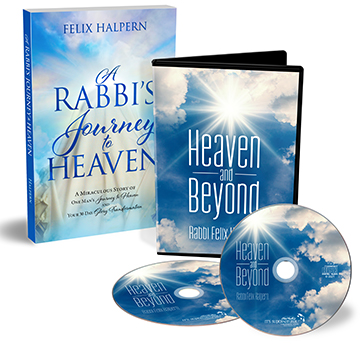 • How to get free from the "Spirit of Need"
• How worship nourishes your soul (there are no substitutes)
• How personal transformation also brings discernment (beyond what the eyes can see)
Through his heavenly encounter, Felix learned to pray differently—what he calls transformational prayer, which puts our "needs" second. Felix says God knows the difference and He wants you transformed!
Felix calls transformational prayer the "Holy Grail of Living" but it shouldn't take your whole life to learn how! He includes his devotional, Heaven's Soul Cleanse (digital download), to help you make this change in your life!
What began in the twinkling of an eye has become your opportunity to be fully alive.
The download of Felix's devotional, Heaven's Soul Cleanse, will be emailed separately.
Felix Halpern was born in the Netherlands to parents who were holocaust survivors. After the family immigrated to the U.S., Felix would later pursue a career in precious metals and stones, none of which compare to the riches of Heaven. Felix is in full-time ministry with an urgent message on how to be fully alive in God.
---