How To Change The World
How To Change The World
by Lonnie Lane
Throughout the Bible we read stories and prayers of people who go through all kinds of troubles in their lives. The difference in outcome is whether they looked to God or not. Century after century things happened. Hard things, difficult things, and most times in the Bible it was because they had strayed from God to worship other gods. Yet there were periods of peace for forty years at a time in Israel when they were led by godly judges (See Judges 3:11; 5:31; 8:28). Each one seems to be a generation of righteously obeying God, followed by an unrighteous generation. It's possible to have only one generation between godliness and godlessness. (Selah.)
There was also peace for Israel in the forty years that David was king. All that warring and then, peace! Why? David sought the Lord with all his heart. "When a man's ways are pleasing to the LORD, He makes even his enemies to be at peace with him" (Prov. 16:7). When it's the king whose ways are pleasing to the Lord, the favor he enjoys is extended to the nation he leads. (Unfortunately, the opposite is also too.) David's favor in God's eyes was extended to his son Solomon's forty year reign though Solomon himself strayed from God in his weakness for foreign ladies who led him to other gods. But for David's sake God deferred the judgment. "So the LORD said to Solomon, "Because you have done this, and you have not kept My covenant and My statutes, which I have commanded you, I will surely tear the kingdom from you, and will give it to your servant. Nevertheless I will not do it in your days for the sake of your father David, but I will tear it out of the hand of your son" (1 Kings 11:11, 12).
That sounds pretty severe, doesn't it? Indeed Solomon's descendent sons and the nations under their leadership suffered terrible warfare and capture by foreign armies. But Solomon himself had prayed years earlier, during the dedication of the Temple which he had built according to David's instructions, "If Your people Israel are defeated before an enemy because they have sinned against You, and they return to You and confess Your name, and pray and make supplication before You in this house, then hear from heaven and forgive the sin of Your people Israel, and bring them back to the land which You have given to them and to their fathers." (2 Chron. 6:24, 25). Solomon should have taken his own advice and led the people to return to God instead of leading them into apostasy as he did. Would the division in Israel into northern and southern tribes never have happened, and would there never have been a deportation so they lost their land and were taken elsewhere? Would what we call "the lost tribes" not have been lost (though they're not lost to God.)? Could it have all been averted by the king declaring the nation was to repent and come back to God, or if a grass roots prayer movement stirred the people to prayer? History would have changed if he had done that. All for the want of a prayer of repentance!
We can change the direction of things in the world and in our respective nations through repentance and prayer.

(Please note: The Global Day of Prayer is June 11, 2011. Join us in Jacksonville, FL for the event, or pray with others in your area. Or you can join in through https://www.god.tv/tunein/ at 6:00 pm Eastern time.) What if Solomon had an event like this? We can change history through prayer! It's been done before. Revivals begin with a few people praying. This will be the largest prayer meeting the body of Messiah has ever had! We can change the direction of things in the world and in our respective nations through repentance and prayer. God does answer prayer. And especially when we are praying in agreement with His word. Since His word reveals to us His will, "this is the confidence which we have before Him, that, if we ask anything according to His will, He hears us. And if we know that He hears us in whatever we ask, we know that we have the requests which we have asked from Him" (1 John 5:14). Repenting and turning from sin back to God is certainly His will. That we live peaceful lives of "justice and mercy and faithfulness" (Matt. 23:23) is surely His will. That is not the direction the world is going right now. But it can be. The change begins with crying out to God; it begins with prayer. This doesn't mean you have to "feel" like praying, but realizing the seriousness of our need for God, we pray. Please make this Day of Prayer a priority, but not only on June 11th but to continue to pray with millions of others around the world for God to turn us from darkness to the light, from evil and deception to righteousness and truth, in Jesus' name! Let our history books read that this time in history were the DAYS of prayer and it changed the world.
We are His and we are in the midst of a world that is going through great trials. God is there to help us, to restore our nations and to strengthen us and bring us peace in the midst of the battle if we will petition Him to do so. A harvest is to be reaped in this time and we need to cry out for souls to be saved. The number of Muslims who have come to the Lord in recent years is due to prayers on their behalf, for God to rescue those with hearts for God, even when their concepts of God weren't correct. He reached out to them so that whatever goes on in their nations, they are under His wing. Those who know the Lord have the opportunity for an entirely different experience in the midst of any given crisis than those who do not know Him. How different would your life be if you didn't know you could rely entirely upon God and His promises to care for you? Others need to know that as well.
Call me naïve, but I happen to believe the Bible (you already knew that). If America (or Israel), would stop all the negotiating and trying to reverse the trend toward dividing Israel's land and cry out to God as a nation in repentance and for God to restore us as a righteous God-fearing people, I'm of the opinion – the Biblical opinion – that it would all settle down and judgment would be averted. God would step in and make changes in creative ways I'm sure we've not thought of. He's like that. Creative. He is the Creator, you know. When Israel cried out to God in repentance, He restored them and shook off their enemies. God is the ultimate solution to whatever the problem. That's what the Global Day of Prayer is about, but we need to be a praying people outside of an event. We can subscribe to God's ways in our own lives, or our own fellowship groups and be sure we are walking in righteousness so we don't contribute to the heaping up of violations against God's Word.
Those who know the Lord have the opportunity for an entirely different experience in the midst of any given crisis than those who do not know Him.

Like you, I'm wondering and watching to see what will be coming next, and like you presumably, whatever comes, our trust is in the Lord. But as I watch and wonder, I keep hearing "Be still and know that I am God" (Ps. 46:10). We often quote that verse without realizing the context. The verse plops us right down in the midst of destruction. Assuming the psalmist is David, he describes earthquakes, raging floodwaters, changing governments in tottering kingdoms and wars, but in the midst of all that instability, God calls to us and says, "Be still and know that I am God." Notice David is excitedly speaking about God who does all kinds of powerful things and about all the terrible events that are taking place and then it's as if the Lord interrupts Him to quiet him and says, Shhhhh. "Be still and know that I am God." Perhaps some time went by before David ended the psalm as he does seem calmer and more at peace, more assured in the last line of this psalm. See how it reads to you.
"God is our refuge and strength,
A very present help in trouble.
Therefore we will not fear, though the earth should change
And though the mountains slip into the heart of the sea;
Though its waters roar and foam,
Though the mountains quake at its swelling pride. Selah.
There is a river whose streams make glad the city of God,
The holy dwelling places of the Most High.
God is in the midst of her, she will not be moved;
God will help her when morning dawns.
The nations made an uproar, the kingdoms tottered;
He raised His voice, the earth melted.
The LORD of hosts is with us;
The God of Jacob is our stronghold. Selah.
Come, behold the works of the LORD,
Who has wrought desolations in the earth.
He makes wars to cease to the end of the earth;
He breaks the bow and cuts the spear in two;
He burns the chariots with fire.
"Cease striving and know that I am God;
I will be exalted among the nations, I will be exalted in the earth."
The LORD of hosts is with us;
The God of Jacob is our stronghold. Selah" (Psalm 46).
In essence, God is saying, "I AM far above the fray and I have control of all things even when things seem out of control." He knows exactly where each one of us is always, in times of trouble and stress, and times of peace and ease. Either way, it doesn't change that He is watching over each of His children to bring us through to Himself. In the midst of all the confusion or chaos that may be going on at different times in our individual or corporate lives, He whispers to each of us, "…the mountains may be removed and the hills may shake, But My lovingkindness will not be removed from you, And My covenant of peace will not be shaken," says the LORD who has compassion on you" (Isaiah 54:10). We do need to listen for it, but He'll speak as we come to Him "in quietness and confidence" in His love for us and involvement with us. Like with Abraham, when we trust in the Lord He counts it as our being righteous, and "the work of righteousness will be peace, and the service of righteousness, quietness and confidence forever"(Isaiah 32:!7). Don't those words just calm your spirit…." righteousness, quietness and confidence forever" We can count on our Father, no matter what. We thank You for that, Abba. We're a people who are grateful to You for all Your goodness to us.
The Lord has called us to be reflections of His goodness to a world that doesn't know His goodness.

Now let's shift away from our own peace for a moment. I have a challenge for you. Go to the supermarket, or anywhere there are people and watch the faces. Don't you see people who are desperately in need of knowing the Lord's lovingkindness and peace can be theirs? The Lord has called us to be reflections of His goodness to a world that doesn't know His goodness. He will wrap us in His love so we can tell those in the world who are frightened or growing colder and discouraged that the warmth of His love is mightily available to them to change their lives for the good. Yeshua told His disciples to "go into all the world and preach the Gospel to all creation" (Mark 16:15). The wording in the Greek, I have been told, is more like, "As you go throughout the world…preach…" meaning throughout your lives, wherever you are, share the Lord with people. He didn't mean only for dedicated missionaries to go far away to preach to unreached people groups. There are unreached people living in your neighborhood. He meant that too I expect. He meant for each and every one of us to be sharing Him from the overflow of His love to others. We give Him a gift of gratefulness to Him for our salvation and for the wonderful and benefit of having Him in our lives by sharing our experiences in Him with others. You don't have to have a whole lot of Bible knowledge to share. Just tell your own story. No one can tell you your story isn't real because they'll know it's real to you.
Many believers, perhaps you're one of them, are waiting until they feel that river of living water bubbling up inside of them so they can then begin to share the Lord properly equipped. It works, however, the other way round. Share and you'll bubble up. Stop it up and you'll clog up! In other words, if we're not sharing, we're not flowing. We're like the Dead Sea into which the Jordan River flows. Because there is no outlet, the water stays there and as the moisture evaporates into the air it leaves deposits of minerals that never get anywhere else because there is no outflowing river outlet. No outflow, no life. That's why it's called the Dead Sea. So when we never share the Lord with another person, what living water has flowed into us, what we have received from the Lord, will be like moisture that disappears in the air and evaporates from us, so to speak. The deposit of faith we would have received from God will never benefit anyone else, and will possibly make us so filled with frustration that we're bitter to the taste, like the Dead Sea . We may be a faithful church goer, but if we're only receiving and not giving, our living water is stagnant and when it's not flowing it's not full of life. Should we come to times of difficulty, if we're not flowing now, are we likely to be of help then?
People who help others through a time of crisis were the most emotionally well balanced through their own crises, while those who implode emotionally and focus only or primarily on themselves are generally the most emotionally crippled by crises. It's God's way to wholeness, to give away what He gives you. He's a giver. He's a sharer. He "gave His only begotten Son" (John 3:16) for us. Go share with people. Will you be a bit nervous at first? Perhaps for some, probably for others, but is that a valid reason not to give someone the Good News? Do you think Jesus wasn't uncomfortable going to the cross? It's about obedience. Only we have much more fun sharing the Lord than the Lord did on the cross. Do you want to obey the Lord? If yes, then share. There are people all around you that Yeshua wants to touch and you're the only hands He has. Share His burden for people's souls and He'll share His joy with you! His joy is the only addiction that is God-approved.
Reprint of this article is permitted as long as you use the following; Use by permission by Messianic Vision, www.sidroth.org, 2011.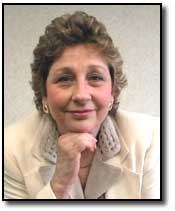 Scripture quotations are from the New American Standard Bible Copyright ©1960, 1962, 1963, 1968, 1971, 1973, 1975, 1977, 1995 by The Lockman Foundation, La Habra, Calif. All rights reserved. Used by permission.
---