Heaven Kind Of Love
by: Lonnie Lane
Sid and I are putting together a book of testimonies of
people who have been to heaven and lived to tell about it. Some died and were
returned to life. These are people
who personally know the resurrection is real. They've
experienced it themselves. How many people do you know that can say that?
Others have had visions in which it seems that their spirits go to heaven with
Jesus while their bodies are still right where they left them on earth. I've
had one of those experiences myself. Life
changing, I can tell you.
Sid, of course, has interviewed quite a number of people who
have been to heaven and who have been to hell. Their
experiences are…uh, well, otherworldly, to say the least. They jar our perceptions of what we think heaven or
hell is like. Our imaginations, on their own, would never come up with what
really goes on in either place; heaven because it's so good that we don't have
anything to relate it to here on earth, and hell is so evil that we don't have
anything to relate it to either. The
two places are as polarized as anything can ever be in every way. But let's not
deal with that. I'd much rather talk just about heaven, wouldn't you?
While we had a few of Sid's guests, we knew there were other
testimonies out there somewhere. I was doing the scouting around so I asked God
to lead me to them. I walked around for a while asking almost everyone, "Say,
have you been to heaven?" or "Spent time with Jesus in heaven? Or do you know anyone who has?" When's the last time you were asked a
question like that? I got some
very interesting answers. I mean these were generally people I knew were
Christians. Some were interested to know why I was asking. Some looked at me
like my dog does when I'm trying to tell her something she's not understanding,
head cocked to one side, looking quizzical, they'd reply "What did you say?"
Usually it engendered a pretty good conversation as I explained why I was
asking and the motive for the book.
I also sent out a bunch of emails with the same question and
that proved fruitful. One was a response from a Messianic friend I knew in
Philadelphia, who has moved to Israel, who told me of a man she knows from New
Zealand, who had an experience in heaven. So – that one linked 'round the world.
His testimony is incredible and it is now in the book. I love how God links
people together. I am often intrigued when I meet someone new to see what God
will do with that relationship, now or some time in the future. God wastes
nothing, including friendships.
…have you been to heaven?

Speaking of which, aside from our own souls and the souls of
those we've led to the Lord, what we get to take to heaven with us are
relationships. Our relationships continue in heaven. I was thinking about that
very fact at a church pot luck dinner last weekend. Everyone was happily
chatting with others they wouldn't have ordinarily sat with, as our pastor had
exhorted us to "Sit with someone who doesn't sit near you in church. Get to
know people you don't usually talk with." I started at one table with my usual
friends but invited someone new to the church to join us. Once she got to
talking with some others at the table, I excused myself and went and sat at
another table, and then when I got my dessert, I sat at yet another table with
people I don't think I've ever had a conversation with. That was so much fun. I
found out more things about folks in our church that I never knew, even some
who actually sit near me in our "creatures of habit" locations in church.
I also took a few moments just to watch the goings on and
all the happy relating. I thought, "I'm
going to spend all of eternity with these people. We are going to experience
heaven together, though likely we'll get there one at a time. I might get to be
the person to show one of them around heaven. These
are people with whom I will enjoy all that heaven has to offer. We're going to
share the joy, the all encompassing love and the beauty and majesty of heaven –
together. We will know each other as the souls of righteous persons made perfect
– forever. How awesome is that? Talk about having things in common. How about
that we belong to Yeshua and we're going to be in His presence – together,
forever! I love it. It just makes me love everyone so much more.
Just sitting there and thinking about it, I felt so much more connected to
everyone – Eternally connected.
Having gotten a good glimpse of heaven through the stories
for our book, I understand now how perfect God's initial creation must have
been. When He said, "It is good," He meant GOOD.
Totally, entirely, completely, perfectly good! Like heaven. Being more aware
now of that goodness and perfection I can see how tragic and entirely un-Godlike
sin is. But I'm happy to announce to you, not that you haven't heard it before,
that there is no sin in heaven and heaven is available for people everywhere.
My brother once asked the Lord what His definition of hope was. God told him
what I just wrote: H-O-P-E stands for Heaven is Open for People
Everywhere.
However, there is an admission price and it's a steep one.
But, Hallelu-Yah, Yeshua has already paid the total price for our entrance into
heaven and into the presence of God. He
paid the price with His Blood and His death that we could never have paid. God
will accept no counterfeit payment for entrance into heaven and Yeshua's
sinless perfection was the only true currency that God would accept. He bought
our way into heaven with His forfeited life. I'm also happy to tell you, the
story doesn't end there. There was a
resurrection and Yeshua is alive!! I know you knew that, but sometimes it's
good to get a little excited about it all over again. Sometimes I just have to
say "Thank you, Lord, thank you, Lord," about thirty times.
Yeshua, you recall, told us to pray, "Your kingdom come. Your will be done, on
earth as it is in heaven"
(Matthew 6:10). Now, I've learned a few things about heaven. For one thing,
everything centers around Yeshua. He is the object of everyone's adoration and
attention, all the time. Does all-the-time-worship sound boring to you? It
won't be I assure you. You'll be so in love with God it'll be your chief
joy. Worship for the Father and for
Yeshua is continual out of the spontaneity of love. It permeates all of heaven,
chorus upon chorus of adoring worship that all go together to harmonize
perfectly. Even the flowers worship, and the trees really do clap their hands,
I've been told. Okay, leaves. I now take this verse as more than poetic: "For you will go out with joy And be led
forth with peace; The mountains and
the hills will break forth into shouts of joy before you, And all the trees of the field will clap their hands" (Isaiah 55:12). I expect that it probably happens. Love for God and love for one another fills
the atmosphere of heaven. There is
not one negative thought or word ever spoken.
A friend of mine recently asked the Lord to tell a friend of
hers who died and is in heaven that she misses her. She sensed the Lord saying
back to her, "I can't tell her that." So my friend said, "Then tell her I love her." He said, "I can tell her
that." She mentioned it to me and wondered why He couldn't tell the one in
heaven that she missed her. I told her, "It's because there are no negative
thoughts in heaven and it would have made her feel badly to know you were sad because
she wasn't with you anymore and no sadness exists in heaven." In the same way, in heaven anyone
who is there, from aborted babies to people who were murdered, not only do they
forgive but they would feel badly if they thought the person on
earth who were the cause of their death would feel guilty. They understand fully the forgiveness of God and
would want to extend it to anyone who may have harmed them. The babies are hoping their mommies will come to
heaven to know them and in some cases still raise them in heaven. In fact, the
babies seem to know who their fathers are even if the mothers don't. And they
feel only love for them.
How much futile time and energy goes into feeling guilty
when 1) Yeshua has paid a terrible price so that we could be forgiven and
released from our terrible actions; 2) the "victim" who is in heaven has
forgiven them completely already. I know it sounds like the offender got off too easily, but it wasn't easy for Yeshua to go to
the cross and die. He really did take the punishment for our sins, so we
needn't carry them any longer; And 3) If Yeshua died to take away your guilt,
it does no service to you, nor does it please Him for you to continue to carry
the guilt. Punishing yourself is an exercise in
futility. It serves no purpose. If you want to please God, for whatever you
feel guilty about, take His forgiveness and thank Him for it. Even thirty times,
if you feel so inclined! Be free, dear one. Grace! Grace! I give you
permission, as your sister in the Lord and a minister of the Gospel to let go
of your guilt. Lay it on the altar before Jesus and leave it there.
Recently I told the Lord I was sorry for something. He asked
me, "When you are telling Me you're sorry about something you did, how are you
feeling about yourself at that moment?"
I thought about it, but didn't need to for long. "Well, Lord. I really 'am
not liking myself' so much at that moment." He then said, "When you 'are not
liking' yourself, you're not loving Me." Oh! What came to mind is the greatest
commandment: "You shall love the LORD your God with all your heart and with all your soul
and with all your might" (Deuteronomy
6:5), to which Yeshua added a new
commandment, "and love your neighbor as yourself" (Luke
10:27). If I'm not loving myself, then I'm probably not able to love
God or others. My "lover" isn't working properly when that happens. If I'm to
love God and others as I love myself, if I'm not loving myself then I'm not
being loving, period. Forgive yourself just as God has forgiven you. Repent for
not having received His forgiveness earlier and ask Him to teach you how to
live in His freedom. "It was for freedom that Messiah set us free; therefore
keep standing firm and do not be subject again to a yoke of slavery" (Galatians
5:1). Let God teach you how to rest in His love. When we are walking in love
with God, we need not fear being drawn away into sin.
If you are a Believer in Yeshua, if you were to die today,
you would find that there is nothing written next to your name in the Lamb's
book of life except: "Paid in Full by the Precious Blood of the Lamb." When you
belong to Yeshua, any sins you have committed have been erased and all that's
there on your record are things for which God will reward you.
…God's will be done on earth as it is in heaven.

I know Christians who are so concerned with whether they're
getting it all right or dying to self enough or being loving enough…. or
whatever. The focus is primarily on
themselves and how hard they are working to make sure they stay saved. Gosh,
that sounds exhausting. I lived that way once. Believe me, putting your trust
in God and enjoying the rest He gives our souls is far better. When could you
ever do enough to make sure you stay saved anyway? How could you ever get there
if tomorrow you might fail again? When do you get to the 'resting' part of
salvation if you're always trying to avoid failing? Besides, it still isn't
about what we do, but it's about what He did. Does it mean we do nothing? Of
course not! We will be REWARDED for our deeds. Remember Yeshua talked about a
reward for giving someone a cup of cold water? He said, "For whoever gives you a cup of water to drink
because of your name as followers
of Messiah, truly I say to you, he will not lose his reward" (Mark 9:41). There really are rewards that God will give us for
some of the simplest things. We think "deeds" means big deal things, but He
rewards the hidden motives of our hearts, not how big a deal we may have made
happen outwardly and visibly. Sometimes we're so concerned about where we've
missed it, that we're missing some wonderful reward opportunities. One woman
who went to heaven told of how the Lord let her know how pleased He was with
her for baking cookies for someone who was very mean to her. He evidently knew
of the incident and rewarded her for "not
returning evil for evil or insult for insult, but giving a blessing instead" (1 Peter 3:9). I
find that highly motivating to go love someone for Yeshua today, knowing it
pleases His heart.

If all is forgiven in heaven, it's easy to love there, right?
But all is forgiven here on earth too for those who have accepted Yeshua's
atonement for themselves. It's kind of an all or nothing thing. You either
believe He died for your sins or you don't. It's not like He forgave some sins
but not others. He just wants us to believe in His goodness and that He, and
not we, has done all that is needed to restore us to perfect acceptance from
Him. And since He has fully accepted us, then just like in heaven, we should
have no reason to hold things against each other. Forgive, Forgive, Forgive. Bless.
Bless. Bless. Therein is freedom! It
is answering Yeshua's prayer that God's will would be done on earth as it is in
heaven.
Reprint of this article is permitted as long as you use the following; Use by permission by Messianic Vision, www.sidroth.org, 2011.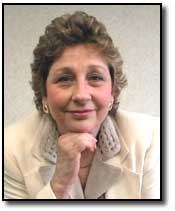 Scripture quotations are from the New American Standard Bible Copyright ©1960, 1962, 1963, 1968, 1971, 1973, 1975, 1977, 1995 by The Lockman Foundation, La Habra, Calif. All rights reserved. Used by permission.
---