Your Mess is Your Message & Rediscovering the Way (Digital Download) by Chad Norris; Code: 9828D
Your Mess is Your Message & Rediscovering the Way (Digital Download) by Chad Norris; Code: 9828D
In his most desperate moment, pastor Chad Norris' life took a dramatic turn when he encountered Jesus and two angels in his counselor's office.
Chad Norris' new book, Your Mess Is Your Message, is everyone's true story a hundred times over. It is also a profound blueprint to help you:
• Stop struggling in your faith and walk in supernatural favor with God
• Refuse to feel condemnation and shame
• See past hurts and pain that God has healed as spiritual assets
When you see the redeeming fingerprint of God in your life…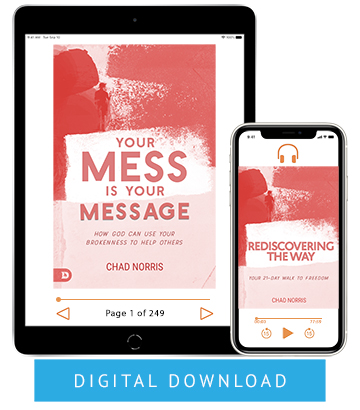 With God, standing still is not an option. Like you, Chad had plenty to share. His powerful 21-step audio series, Rediscovering the Way, will walk you through 5 to 7 minute teachings that intend to change you. Their purpose is to help you transition from spiritual orphanhood to identity in the Father. 
Chad says the message that God also wants you to know will come straight from your own story. That's why it's authentic. And your objective is?
• Out of pain and grief, learn how to talk to God and overcome
• Become established and empowered in your true identity and God's love
• Encounter the Person and purpose of the Holy Spirit
• Finish what the Cross began out of the power and authority of Jesus now
Rediscovering the Way comes with a study guide! Chad calls it your 21-day walk to freedom.
Chad Norris is the senior pastor of The Garden Greenville in Greenville, SC. He has a master of divinity from Beeson Divinity School. Chad and his wife, Wendy, have three children and are passionate to create a culture of discipleship that begins in their own home and extends to everything they do.
---