Walking in Prophecy, Signs & Wonders & Your Days Are Numbered (Digital Download) by Glenda Jackson; Code: 9869D
Walking in Prophecy, Signs & Wonders & Your Days Are Numbered (Digital Download) by Glenda Jackson; Code: 9869D
Get your faith radical again. Get your faith on fire.
In Walking in Prophecy, Signs & Wonders, author Glenda Jackson shares personal stories of miraculous events, including those of her family heritage, to demonstrate how God is still performing signs and wonders in the present day, and encourages readers to become vessels for God's glory as prophetic watchmen in anticipation of Messiah's return.
Have you been waiting for a long time for things to come to pass? Have you become discouraged and unsure of what to do?
Through this special collection, Glenda will help you …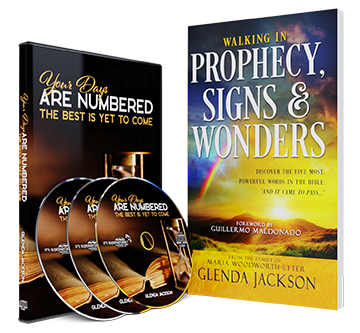 Discover the Five Most Powerful Words in the Bible
Survive the coming tribulations as you are re-ignited by God's fire to live supernaturally
See how lifting up your Shield of Faith is more critical than ever before!
Clearly see God's fingerprints in creation as you learn the prophetic implications of the Hidden Numbers and "ordained times" in the Bible!
Open up the secret pathway to access God's destiny and purpose for your life
Understand and find peace in the timeless design of the "Glory Realm"
See how God is now preparing the Church for battle against the evil forces arrayed against you!

With Glenda's book, Walking in Prophecy, Signs & Wonders and exclusive audio CD series, Your Days Are Numbered, you will be better prepared to walk in the victory and glory of the Lord. The time is now!
Experience the supernatural power of living with renewed passion and purpose, fueled by the divine fire of God!
Glenda Jackson, a recognized international prophet. inherited the gifting of her aunt, Maria Woodworth-Etter.
---