Unseen Warfare & Building Your Personal Firewall (Digital Download) by Dr. Hakeem Collins; Code: 9794D
Unseen Warfare & Building Your Personal Firewall (Digital Download) by Dr. Hakeem Collins; Code: 9794D
It's time to take the first step.
Few believers are aware of just how many day-to-day struggles are actually the work of demons.
Often, we simply press on, too busy to consider how to respond. Seer Hakeem Collins calls this the "default" response. It's all too common to get stuck in "minor" negativity or a compromised mindset, aka a stinky attitude! Don't tarry. Take action!
Hakeem says it's time to call it what it is—getting comfortable with a fallen spirit. Coexisting…with the enemy. But if little foxes spoil the vineyard, its far better to turn the devil's world upside down NOW!
Hakeem's latest book, Unseen Warfare, lays out the rules of engagement for your everyday battles, including how to: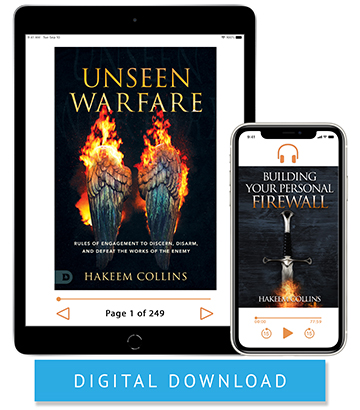 • Discern where the enemy is at work in your life
• Rule the battlefield of your mind
• Break underlying cycles of family curses
• Get free from destructive patterns from your past
One of the first steps is to establish a spiritual firewall. His 3-part audio series, Building Your Personal Firewall, lays out the essentials, and it also covers some of the generational curses found in the Bible. For your consideration!
Hakeem's offer includes his prayer card, The Warfare Prayer of Protection. When bigger battles come, you'll be ready.
Dr. Hakeem Collins ministers in the prophetic and the gift of healing. An author and radio host, he is CEO of Champions International in Wilmington, Delaware.
---