Unmasking the Devil (Digital Download) by John Ramirez; Code: 3557D
Unmasking the Devil (Digital Download) by John Ramirez; Code: 3557D
Satanist-Turned-Evangelist Helps You Rise Above the Enemy!
Many people, even Christians, deny the devil's power. John Ramirez doesn't have that luxury—he experienced the prince of darkness up close and personal.
In the impoverished streets of the South Bronx, John Ramirez found "acceptance" from a family of witches and warlocks. These practitioners of dark arts trained him to be a high-ranking satanic priest. However, everything changed when he met his living Messiah.
In Unmasking the Devil John Ramirez shares an insider view of how satan operates so you can avoid his traps. You will learn how to: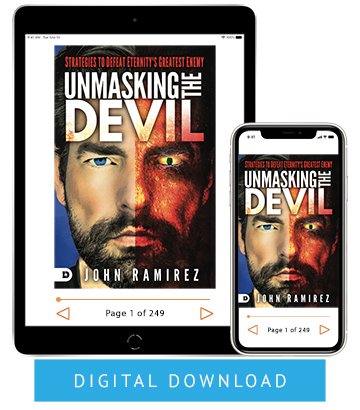 •  Discern between the voice of God that points to victory and satan's voice that leads to bondage.
•  Close doors of access: entertainment, unhealthy relationships and false religion.
•  Go on offense with the Word of God and prayer to render hell powerless.
•  Recognize the spirits that rob God's people through disunity.
John Ramirez says you should embrace life and life abundantly — in Jesus — even as you equip yourself to live in victory and complete freedom. He will help you stop satan's strategies and take possession of God's blessings in your daily life.
John Ramirez is an international evangelist, teacher and author who ministers total freedom and victory in Jesus over our adversary, He has appeared on The 700 Cub, TBN, The Word Network and The Church Channel.
---