There Must Be Something More! (Book) by Sid Roth; Code: 2064
There Must Be Something More! (Book) by Sid Roth; Code: 2064
Support Jewish Evangelism — Get Sid Roth's Personal Testimony!
Newly updated edition! — As a young Jewish businessman, Sid Roth's goal was to be a millionaire before age 30. At age 29, he realized that was not going to happen. Consequently, Sid left his wife, family and job at a major financial management company to look for happiness elsewhere. Instead, things got much worse.
Sid's search took him into the New Age realm of religion where he became suicidal and almost lost his mind. He realized that the demons attacking him were real. But where could he go for help? No psychiatrist could solve his problem. No rabbi. Not even his devoted parents.
On the worst night of Sid's life, a tangible Presence entered his room and filled him with an indescribable peace. Learn the easy way what Sid chose to learn the hard way — life can be lived abundantly and joyfully, no matter your circumstances.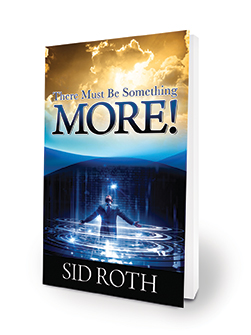 Because it is not written in a "preachy" way, this book is an effective tool to reach your Jewish friend or someone trapped in the New Age. 157 pages.
Support Jewish evangelism at this crucial time in history as Jewish hearts open to the gospel. Your gift of $15 or more can make 2018 a turning point in the end-time Kingdom harvest. It is time for Israel to say, "Blessed is he who comes in the name of the Lord!"
---