The Unfair Advantage from A to Z (2 Books, CD/Audio & Wristband) by Robby Eddy; Code: 9814
The Unfair Advantage from A to Z (2 Books, CD/Audio & Wristband) by Robby Eddy; Code: 9814
My Story of Conquering the Beast of Addiction
The Unfair Advantage is the edge-of-your-seat story of John "Robby" Eddy, a former federal prisoner whose crimes made national headlines.
Then one night on a cold jail cell floor, Robby found The Unfair Advantage that turned his world around! Today he is ten years sober, with a beautiful wife and family, a prosperous business and an all-in mission: to help others find the freedom he discovered.
Robby's book and 40-day devotional tell the story of how God responded to Robby's sincerity with the promise that an "Unfair Advantage" Anointing would follow Robby—and it has since that day!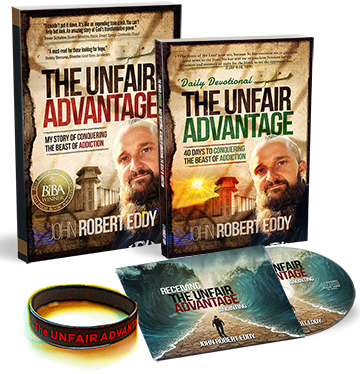 On his CD/audio teaching Robby shares:
• How Moses walked in this anointing when God changed his shepherd's staff into the Rod of God.
• How the "Unfair Advantage" Anointing is transferable!
• How it extends into provision, protection, healings and more!
Robby says God will go with you every step of the way as you overcome every obstacle you face, especially what he calls "the beast of addiction!"
John "Robby" Eddy is a former federal convict with a long list of arrests, addictions, jail stints, five DUI's, two OD's, and years of raging alcoholism. Robby's life has been miraculously transformed by the stunning power of God and the daily practical application of the Twelve Steps.
---