The Sound of Awakening (2 Books & 3-CD/Audio Series) by Rick Curry; Code: 9796
Sale!
The Sound of Awakening (2 Books & 3-CD/Audio Series) by Rick Curry; Code: 9796
Revival is a river…
Revival is a river that runs through people. It flows with you or without you.
Rick Curry is a revivalist who urges you to prepare for the revival that's coming. It will be a powerful season for healing, for releasing offenses and getting free of unforgiveness and every form of emotional baggage. Make the most of it!
If you're feeling stuck in your past, Rick's new book, The Sound of Awakening, tells how you can get ready now, like:
• Run (not walk) from apathy, isolation, everything lukewarm
• Prepare (literally set yourself on fire) for encounters
• Grow your expectation for this move of God
Rick says your flesh likes comfort, but your spirit wants to burn. Which will rule? On his 3-CD/audio series, Stewarding Your God Encounters, Rick points to: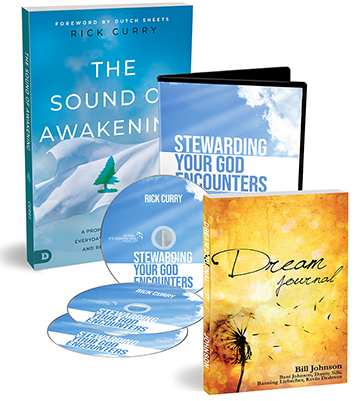 • The direct relationship between forgiveness and your future
Rick says it is all too easy to settle for delays and disappointment, but this coming move of God has been planned from the beginning. It belongs to this generation and it carries God's plans and purposes for every believer alive today.
How will you know them? Through your dreams and encounters. With that in mind, Rick's offer includes Dream Journal (Bill & Beni Johnson, Danny Silk, Banning Liebscher, Kevin Dedmon). The time to start asking God questions…is now!
Rick Curry and his wife, Jennifer, have served for nearly 40 years pastoring thriving churches and/or traveling full time in evangelism ministry.
---