The Prophetic & Healing Power of Your Words and Speaking Miracles (Digital Download) by Becky Dvorak; Code: 9585D
The Prophetic & Healing Power of Your Words and Speaking Miracles (Digital Download) by Becky Dvorak; Code: 9585D
Create an Atmosphere for the Miraculous!
What if every believer could receive healing for themselves—or release it to others—by simply speaking prophetic words God gives them?
Through her book, The Prophetic & Healing Power of Your Words, and exclusive 3-CD series, Speaking Miracles, Becky Dvorak mentors you on how to prophesy your healing by using words charged with the power of God. You will learn how to: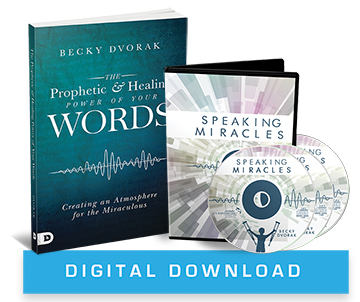 • Understand and operate the law of the spoken word
• Release blessings and reverse curses
• Create atmospheres of healing through faith-filled words 
• Activate prophetic gifts of the Spirit
Becky Dvorak is a prophetic healing evangelist who conducts healing services, seminars, and conferences globally. She and her husband David have been full-time missionaries since 1994, in Guatemala and Central America. They are founders of Healing and Miracles International and Vida Ilimitada.
---