The Mystery of Israel and the Middle East (Book) by James Goll; Code: 9816
The Mystery of Israel and the Middle East (Book) by James Goll; Code: 9816
You Can Help Compose History before the Throne of the Almighty!
Pages are turning on God's prophetic calendar, approaching that glorious day when His Son will step once again into the world of time and space. What is the key to this timetable? The answer is Israel. And the controversy over her destiny affects every nation on earth.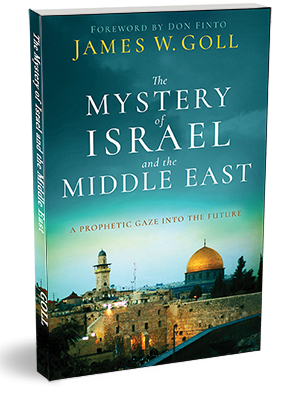 James W. Goll calls you to join the global prayer movement to remind God of His promises toward His ancient covenant people, according to a targeted biblical plan.
James gives seven reasons to pray and stand for Israel; and guidelines to praying for all the descendants of Abraham—the offspring of Hagar, Sarah and Keturah—Jew and Arab alike.
It's time to act!
Dr. James W. Goll is an international bestselling author and has taught in more than fifty nations. He is the president of Encounters Network and the international director of Prayer Storm.
---