The Healing Journey & Conversations with Holy Spirit (Digital Download) by Mary Hasz; Code: 9561D
The Healing Journey & Conversations with Holy Spirit (Digital Download) by Mary Hasz; Code: 9561D
Healed. And Healed Again!
What do you do when you are healed of an incurable, painful, debilitating disease and then years later it comes back with a vengeance? From this hopeless, dark place, Mary Hasz cried out to God. He answered and said things that amazed her. She was healed and now wants the world to know what God told her. Want to hear?
Through her book, The Healing Journey, and 3-part audio series, Conversations with Holy Spirit for Supernatural Breakthrough, Mary imparts supernatural and practical keys to achieve emotional and physical healing. She teaches you to…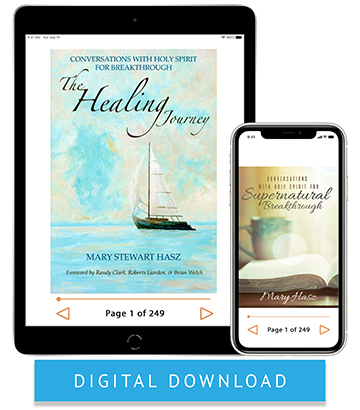 •  Receive your Heavenly Father's love and overcome all fear, guilt and shame.
•  Understand the miracle and redemptive power of the blood of Jesus.
•  Learn to pray more effectively to overcome every symptom trying to come against you.
•  Understand the power of your supernatural prayer language and how to use it.
Mary's book, audio series and 21 Keys to Healing bookmark are powerful help for anyone needing to cry out to God for their healing—and an inspiration to everyone wanting their full inheritance of walking in divine health.
Mary Hasz is an author, traveling minister and artist who walks in the prophetic and healing giftings. She and her husband, Rich, have  five children and live in Moravian Falls, NC.
---