Supernaturally Delivered! (Book & 3-CD Set) by John Veal; Code: 9665
Sale!
Supernaturally Delivered! (Book & 3-CD Set) by John Veal; Code: 9665
How is your hedge of protection today?
John Veal grew up with spiritual encounters of the wrong kind. But Holy Spirit used it for good!
Today John is ready to help you get rid of unwelcome spirits of every description and close the open doors to trouble in your life and home.
To say it another way, John will help you take out the spiritual garbage. For good. John's new book, Supernaturally Delivered, and 3-CD set, Overcoming Spiritual Strongholds, bring powerful help right to your doorstep.
For instance—fear and anxiety were never meant to be your secret companions. New Age thinking and spirits were never meant to be mainstream where you live. And—should opioid addiction really reside in your neighborhood?
Whether it is something as old as a poverty mindset or something new-and-not-harmless, John Veal has answers from God for your hedge of protection…and deliverance, if needed. That includes: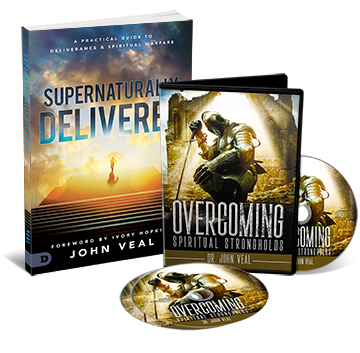 • Knowing how to receive deliverance from things you can't see
• Learning to identify and close doors to the demonic in your life
• Operating in 7 secrets for guarding your anointing
The gateways are as nearby as your big screen TV, computer and smart phone! But Jesus wants us free!
Dr. John Veal is the senior pastor/prophet of Enduring Faith Christian Center and the CEO of John Veal Ministries, Inc. He is a regular contributor to Charisma Magazine Online, The Elijah List, IMAG, Spirit Fuel, Reformation Today and others. John currently resides in Chicago with his wife, Elisa.
---