Supernatural Freedom from the Captivity of Trauma (Digital Download) by Dr. Mike Hutchings; Code: 9746D
Supernatural Freedom from the Captivity of Trauma (Digital Download) by Dr. Mike Hutchings; Code: 9746D
When the spirit of trauma is broken, healing WILL break through!
The Holy Spirit has used Dr. Mike Hutchings in a supernatural way to bring healing to thousands bound by the spirit of trauma.
Incurable? Unsolvable? No, no, no! In his new book Mike Hutchings helps you: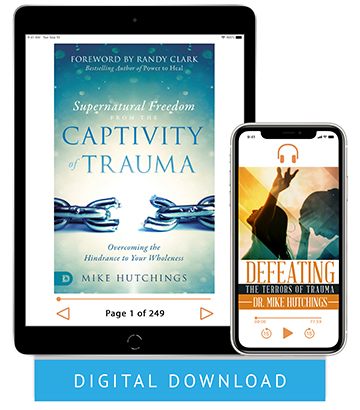 • Identify the symptoms and root of trauma issues
• Overcome all debilitating anxiety, fear, nightmares
• Receive physical, emotional and spiritual freedom
• Escape the scourge of "incurable" PTSD
Jesus suffered so that you don't have to suffer anymore!
Why trauma? God created you with a specific destiny in mind—the enemy wants to stop it. Mike's 3-CD/audio series, Defeating the Terrors of Trauma, confronts the signs and symptoms of trauma and shows you how to stop it. Every shadow, large or small, must go!
Includes the download of Mike Hutchings' Prayer Model for Deliverance from Trauma.
Break the spirit of trauma and get your life back!
Dr. Michael Hutchings has been in ministry to the Church as senior pastor, church planter, counselor and education director for 40 years. He is currently the Director of Education for Global Awakening Ministries. He conducts "Healing PTSD" seminars throughout the world.
---