Sooner Than You Think (Digital Download) by Sid Roth; Code: 1923D
Sooner Than You Think (Digital Download) by Sid Roth; Code: 1923D
Teachings from gifted prophecy teachers!
Sooner Than You Think. (Book) Get ready to receive vital revelation for these End Times through 13 chapters written by gifted prophecy teachers. Sid Roth has gathered leading experts and prophetic voices to take you on a powerful journey of coming events. Each author shares a different part of the prophetic puzzle.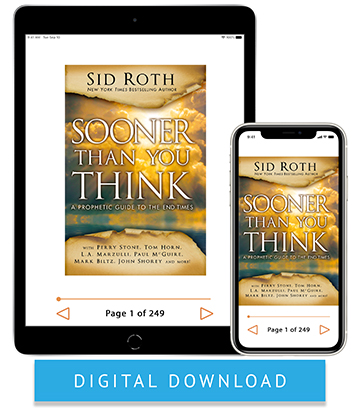 Paul McGuire's chapter, "End Times Previews," applies his journalistic expertise to hard-to-understand aspects of last days' prophecy.
Perry Stone writes a chapter titled, "The Messiah Comes," exploring the significance of the Jewish feasts in connection with the first and second comings of Messiah. Perry returns in another chapter, "Revelation about Revelation," that delves deeply into how we should look at the Book of Revelation.
Jim Richards tells us "How to Prosper in the Last Days," describing God's plan for you to thrive, even if there is a financial collapse.
Also, Bill Salus, in "Inevitable Conflicts," looks at the last wars before Jesus returns.
Plus eight more chapters by some of Sid's favorite teachers!
Sid Roth has a passion for people to experience the power of God for the purpose of having intimacy with Him. He is a pioneer in the convergence of Jews and Christians in Messiah Jesus that brings about an explosion of God's power. His television programs It's Supernatural! documents miracles and is viewed internationally.
---