Secrets to Destroying Demonic Assignments & Demolishing Demonic Assignments (Book & 12-Part Audio Masterclass) by Joshua & Dee Giles; Code: 9916
Secrets to Destroying Demonic Assignments & Demolishing Demonic Assignments (Book & 12-Part Audio Masterclass) by Joshua & Dee Giles; Code: 9916
Interested in joining this Masterclass online instead?
Go here.
Stop the Cycle of Defeat & Unlock Your Destiny!
Joshua and Dee Giles' masterclass includes Joshua's brand-new book, Secrets to Destroying Demonic Assignments, and their exclusive 12-session audio series, Demolishing Demonic Assignments. With Joshua and Dee's Masterclass in spiritual warfare, you will receive instant freedom as you cut off secret curses, end perversions, witchcraft, and sorcery spells, and break recurring demonic cycles that hinder you and your family. Prevent sudden failures from coming in at the last moment to steal away your breakthroughs and instead, experience a full release of God's promises so you can live in the full destiny God has for you.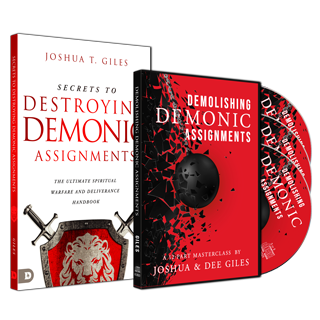 Be Empowered to Defeat Demonic Influences in Your Life
Learn how standing on five pillars gives you boldness and authority in the spirit realm. Immediately discern and resist demonic influences like the spirit of Jezebel, marine spirits, familiar spirits, leviathan, python spirits, and more. Destroying Demonic Assignments provides step-by-step prayers of activation and deliverance that tear down and destroy every ungodly demonic assignment the enemy throws at you!
Joshua T. Giles, founder of Firebrandglobal, is a prominent figure in the Apostolic and Prophetic circles. He excels as an entrepreneur, author, and highly sought-after business consultant, renowned for his exceptional ability to generate significant financial results through divine strategies and marketing techniques, resulting in multimillion-dollar returns for his clients.
---