Secrets to an Encounter with God (Digital Download) by Joshua Giles; Code: 3683D
Secrets to an Encounter with God (Digital Download) by Joshua Giles; Code: 3683D
If anything, God is genuine. But there's more.
The story of Joshua Giles' remarkable pursuit of God almost never happened.
Instead, Joshua began with a consuming drive to become a major league baseball player. Almost overnight, something changed.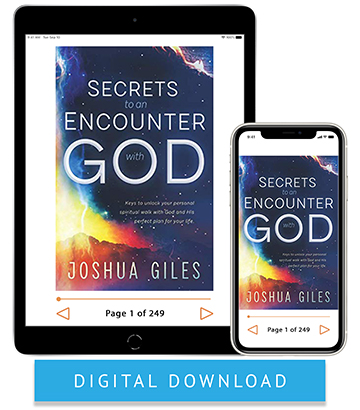 Joshua hungered for God. Worship, prayer, fasting, whatever it took. What he discovered were levels in the spirit realm that can be a part of every believer's walk with God.
That's where you enter the picture—God will be found! Joshua learned you can subdue your mind, your daily distractions, every hindrance. And your true potential is on the other side of that journey.
There are no substitutes for your own God encounter!
Joshua Giles is an apostolic and prophetic visionary, and an author. He is passionate for winning souls and encountering God's presence. Joshua is founder of Firebrand Ministries. He, his wife, Dieuta, and their children reside in Clemson, South Carolina.

---