Receiving Generational Blessings from the Courts of Heaven (Digital Download) by Robert Henderson, Adam Henderson; Code: 3810D
Receiving Generational Blessings from the Courts of Heaven (Digital Download) by Robert Henderson, Adam Henderson; Code: 3810D
Bringing the promises of God to your family's generations.
After years of ministry Robert and Mary Henderson saw their family of six drift from their Christian upbringing. It was a challenging season without a clear remedy.
Receiving Generational Blessings in the Courts of Heaven shares Robert's revelations that came out of that season, and it includes the example of his son Adam's experiences as he came out of a failed marriage and years apart from God that followed.
Robert and Mary learned there is a path to restoration. Today, Adam's season of hope deferred is over. He is lead pastor of Radiant Church, Canton TX, happily married with two beautiful kids.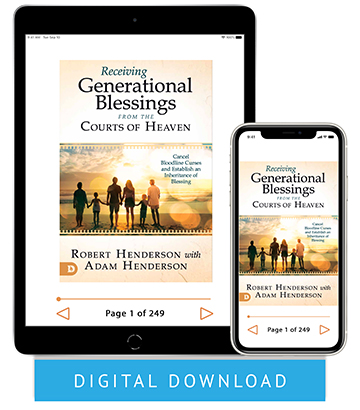 Robert brings focus to the real significance of your relationship with the Father and your place of access to everything God offers you as a believer. It includes God's original plan for His blessings for His family based on the example of Abraham, Isaac and Jacob.
When adversity comes there is a place to make your cause known,The Courts of Heaven, based on the redemptive work of Jesus. Robert urges you to get everything God has for you and your family.
Robert Henderson is recognized for his passion to bring apostolic alignment to the church and the business world. The author of several books, he has been in ministry for 30 years. He and his wife Mary reside in Waco, Texas.
---