Prophetic Words for America, Israel and the World & Glory Hunger (Digital Download) by Bobby Conner; Code: 9866D
Prophetic Words for America, Israel and the World & Glory Hunger (Digital Download) by Bobby Conner; Code: 9866D
2023 is here, and God is speaking to us loud and clear.
Bobby Conner wants you to hear what God has shown him about 2023. It's a "now" word straight from the heart of God for America, for Israel and the world. Bobby says it's for every believing "whosoever" who wants to abide in the shadow of the Almighty and who wants to move with God step by step through the coming year. Start Day 1, start anytime, just start! Revisit Bobby's words during the year!
First—verdicts are being rendered on behalf of the saints (you). 2023 is a time of recovering what the enemy has stolen. Things in America will turn around, and warring angels have come from Heaven to help us. We (you) have been given power to bind the enemy. God is not through with America, and we (you) need to agree with Him.
Revival is going to break out in unlikely places, even a mighty move coming to the millennials! Jesus is on God's agenda for 2023. Watch Him do it! Partner with God!
Second—God is serious that we (you!) understand how important it is to pray for Jerusalem. God will protect us as we do, corporately and individually.
Okay. There's a war going on for the life of our nation and the world. God wants to show His awesome power to His people. He does not sleep or slumber!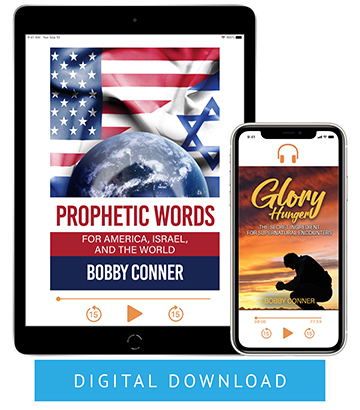 Third—Bobby prays for you to hear from God for yourself and that God will establish your heart to be usable for His Kingdom. Be willing and obedient to:
• Pray for the peace of Jerusalem and for the leadership there
• Make your petitions heard: SPEAK words that move the hand of God
• Contend for America and Godly leadership—and your own needs too!
God pours Himself out through Bobby Conner to pour Himself out through you.
Bobby's audio teaching, "Glory Hunger," is a direct challenge to drive out anything stale or stagnant in your relationship with God. Your personal hunger is the best way to receive God's best. Heaven's storehouses are for His family!
Bobby prays an impartation for you to be set ablaze with the Glory of God! Blessed 2023!
Bobby Conner has been ministering around the world as a seasoned prophet of God for almost five decades. Bobby's prophetic words—life-changing encouragement and exhortation for individuals, churches, regions, and nations—are documented world-over for their precision, accuracy, humor and transformational power.
---