Prophetic Manifesto (Digital Download) by Patricia King; Code: 3646D
Prophetic Manifesto (Digital Download) by Patricia King; Code: 3646D
Prophetic Strategies AND Warnings for the Next 10 Years
The turbulence of 2020 marked the start of a new era, and many prophetic voices recognized we had arrived at an entirely new era. God has new directives for us—we need to move in sync with His Spirit, fully engaged and not slowed by distractions.
In A Prophetic Manifesto for the New Era, respected prophet and author Patricia King holds out a plumb line—a standard for believers to walk by, but with measurable success and Kingdom purpose.
Through short, reflective readings, with prayers of activation and insights, Patricia lays out a path for believers to walk in, starting now!
Patricia's prophetic words focus on…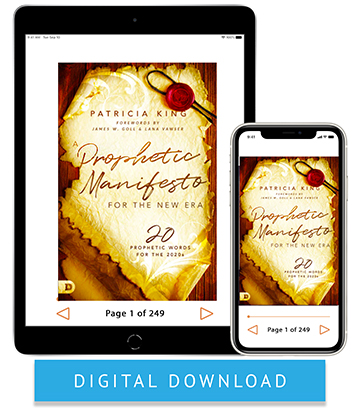 Cultural reformation

Supernatural visitations

The fear of the Lord

Discernment for this new era

Shakings—wars, rumors of wars, natural disasters and plagues

Taking hold of wisdom and the counsel of God
You can know the season you are living in. Sooner is better! Know God's word for our times and start walking in it!
Patricia King has been a pioneering voice with over 30 years in Christian ministry. She is an author and regular guest at conferences and television and radio shows. Patricia is co-founder of XP Ministries and hosts the TV program "Patricia King – Everlasting Love."
---