Praying the Priestly Blessing (Digital Download) by Warren Marcus; Code: 9755D
Praying the Priestly Blessing (Digital Download) by Warren Marcus; Code: 9755D
"The last move before Messiah returns is the Revelation of God the Father!"  —Sid
Warren Marcus' insights in The Priestly Prayer of the Blessing uncover one of the greatest treasures in all of Scripture. Jesus taught us how to pray to the Father, but Father God taught Moses and Aaron another perspective — how to impart the Father's blessing to the Children of Israel for their complete favor, protection and provision. Modern translations cloud the power and meaning of this all but forgotten treasure! Warren brings its Hebrew words to life.
• Learn how to have intimacy with the Father and prepare for the last great outpouring of His Glory.
• Fully understand these supernatural words of grace, health and provision.
• Release this Divine Prayer of Blessing over yourself and others as God Himself intended.
• Receive its full impartation just as the Children of Israel did.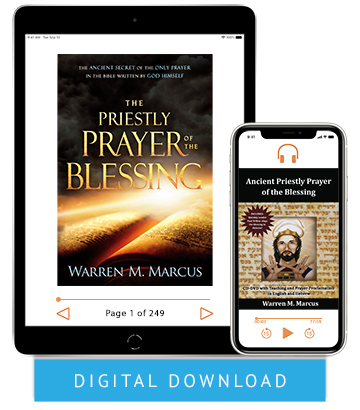 Warren's exclusive audio/video set, Ancient Priestly Prayer of the Blessing, gives you more teaching on The Priestly Prayer. Warren also pronounces the blessing over you, and he includes a special recording by renowned Messianic Jewish psalmist Paul Wilbur, who sings this prayer over you in Hebrew. (Large file size! Watch or download Warren's video via a Vimeo link sent by email.)
Then Warren takes you on a 30-day journey into the ageless power of this covenant prayer! His new book, Praying the Priestly Prayer, carries you into the heights of God's intended blessings!
Warren M. Marcus is a Messianic Jewish believer and Spirit-filled evangelist. An avid student of the Bible, Warren specializes in the Jewish roots of Christianity. He also oversees production of It's Supernatural! TV as vice president of Sid Roth's Messianic Vision.
---