Possessors of Life & Think Like Jesus (Digital Download) by Chad Gonzales; Code: 9758D
Possessors of Life & Think Like Jesus (Digital Download) by Chad Gonzales; Code: 9758D
The Life and Power of Jesus is already inside you. Possess your healing now!
God had a plan from the very beginning when He breathed Life into Adam. And He called it good. Chad Gonzales' new book and 2-part audio series, Possessors of Life, is a remarkable revelation of God's plan from the very first days of Creation. It has power for you today.
Chad Gonzales encountered what this Life means in full significance—miracles have followed his ministry ever since. Because the Life of the Father is in Jesus, and the Life of Jesus is in you! You've known this all along, but it's time to take hold of it. Chad walks you through everything you need and the full revelation of what is (already) inside of you!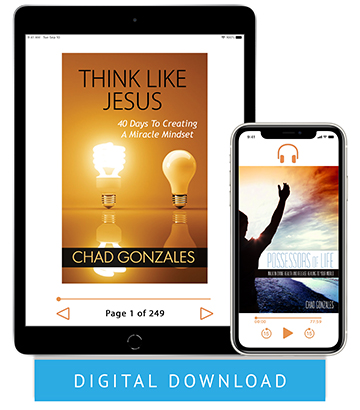 So get this—you are a possessor of Life and the full inheritance of God's Goodness in Jesus.
Chad says if you already know Jesus what you need is a greater revelation of His Life. To help you get understanding and your healing Chad's new 40-day devotional, Think Like Jesus, will help ground you in the works and mindset of your Messiah! That is the essence of Life and you can possess it.
Dr. Chad Gonzales has a mandate to bring a supernatural life, filled with miracles, back to the body of believers. Chad is founder and co-director of of The Healing Academy along with his wife Lacy. They reside in Tulsa, Oklahoma.
---