Making Jesus Irresistible (Digital Download) by Natasha Schedrivaya; Code: 3329D
Making Jesus Irresistible (Digital Download) by Natasha Schedrivaya; Code: 3329D
Follow in Natasha's footsteps…
This is the Digital Download version.
Natasha's Story (Audio). Natasha Schedrivaya reveals the improbable plan God had for her life and the supernatural journey that led her to a radical conversion from communist/atheist to a believer in Jesus. Natasha's story is an invitation to believe that God has a plan for your family! Natasha never imagined she would carry the Gospel to 36,000 villages in the former Soviet Union. What she learned is simple: God is real and you can have a real relationship with Him.
Fresh Perspectives on Physical Healing (Audio) Natasha has seen many miracles and she shares the 4 voices that speak to anyone who needs healing: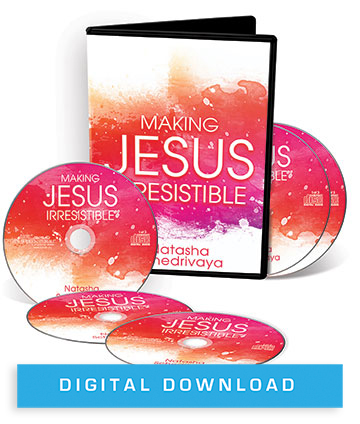 • The voice of your Body (sickness or pain)
• The voice of the Doctors
• The voice of Religion
• The Voice of God (The Truth)
Natasha helps you make the Voice of God the final authority in your life. Healing follows!
The Simplicity of the Message (Audio). Natasha relies on the power and simplicity of the Gospel message in 4 principles anyone can share. Just add some of your own story.
The Right Kind of Knowledge (Audio). It is not God's plan to present you with a book of rules. But spend time with Him! Knowing God produces trust. Once you have confidence, the size of a problem does not matter. His mercies are new every morning. Focus on that!
Making Jesus Irresistible (Audio) Natasha's unlikely story is a picture of God moving on our level. As God manifests His love Jesus becomes irresistible—even when people have been deprived of the Gospel for generations!
Natasha Schedrivaya is the first woman bishop of the former Soviet Union. Since becoming a believer she has carried the gospel of Jesus to 36,000 villages.
---