Living in God's Tangible Presence (Digital Download) by James Maloney; Code: 3192D
Living in God's Tangible Presence (Digital Download) by James Maloney; Code: 3192D
Discern, Prosper and Bless
James Maloney recently had a prophetic visitation from a Messenger Angel. The angel declared a new "Shift in the Spirit" to him. Since that time God has moved even more miraculously through James' ministry and the flow has not let up! James simply wants to equip you to experience the same.
Through his powerful series Living in God's Tangible Presence, James Maloney will teach you how to achieve greater heights in the supernatural by discerning God's tangible Presence.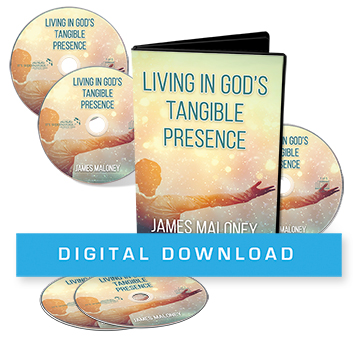 His series includes the following powerful teachings:
• Greater Heights in the Supernatural
• The Spirit of Boldness
• Tearing Down the Wall of Isolation (1)
• Tearing Down the Wall of Isolation (2)
• Anointed to See
What are you asking God for today? The answers are in His tangible Presence.
James Maloney has been in ministry forty years as the president of The ACTS Group International. A well-respected prophetic voice, James' ministry is marked by a sign-and-wonder flow, geared toward healing. He holds a D.D., a Th.D. and a Ph.D. and is the author of The Dancing Hand of God and The Panoramic Seer.
---