It's Time to Take Back Our Country (Digital Download) by Kevin Zadai; Code: 3623D
It's Time to Take Back Our Country (Digital Download) by Kevin Zadai; Code: 3623D
Will you join the Holy Spirit? The time to pray is NOW!
Kevin Zadai had a powerful visitation that lasted all night. Jesus gave Kevin compelling revelations of the spirit realm around us today AND the near future.
Jesus showed Kevin how to pray—specifically for the people of America.
It's Time to Take Back Our Country is a result of Kevin's visitation. If you have a heart for the future of our country, make it your daily companion.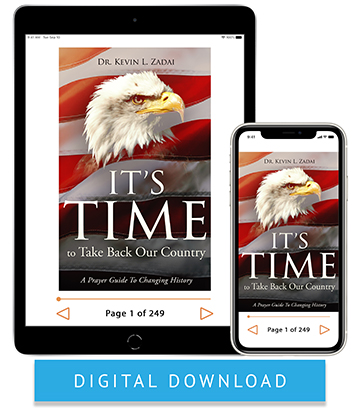 The prayer points in this book have the potential to secure our nation for years to come. We will see a harvest of souls not seen in a generation!
Kevin's principles apply to ANY nation on the planet!
Note: This book is in PDF format. After purchasing, you will be taken to an order details page with a button on the right-hand side to click to download the book. You will also receive an email with a link to download (it may take several hours before you receive the email).
Kevin Zadai is a licensed pilot who God told to be a flight attendant. Over a long career with a major airline, the former employee-of-the-year ministered to its passengers daily, carrying the Glory of God as he worked. Today Kevin is retired, but he is still a busy traveler, including frequent trips to Heaven.
---