Holy Spirit The Bondage Breaker (Digital Download) by David Hernandez; Code: 9913D
Holy Spirit The Bondage Breaker (Digital Download) by David Hernandez; Code: 9913D
Claim Your Freedom Today!
With David's new book, Holy Spirit: The Bondage Breaker, you will break sinful habits and experience victory over repetitive cycles of bondage. You will overcome longstanding strongholds of addiction, apathy, depression, confusion, demonic accusations, ungodly thoughts, and more.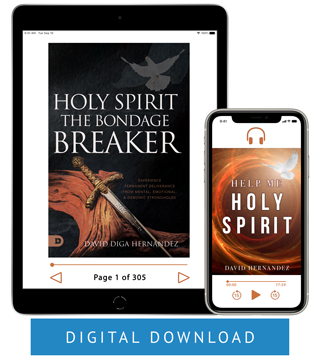 Keep Your Victory Forever!
Through his three-part audio set, Help Me, Holy Spirit, David aims to demonstrate how to maintain your freedom by living in the Holy Spirit. He observed that many believers fail to practice the principles of walking in the Spirit, resulting in short-lived victories. David reveals how cultivating a deeper fellowship with the Holy Spirit empowers you to walk in lasting authority, power, and freedom!
In David's bonus video, Consume Me, Holy Spirit, you will witness a new wave of divine glory as many individuals are healed, delivered, and encounter the miraculous. There have even been reports of angelic voices joining in worship.
Note on Video Content: Please check your email purchase receipt for a digital access link and passcode.
David Diga Hernandez is an evangelist, healing minister, author and host to Encounter TV. He heads an international healing ministry based in Southern California.
---