Glory Miracles (Digital Download) by Miriam Evans; Code: 9870D
Glory Miracles (Digital Download) by Miriam Evans; Code: 9870D
There will come a point where we'll need to walk in the realm of the supernatural!
In her book, Glory Miracles, and exclusive audio series, Mysteries of the Glory Revealed, Miriam will equip you with keys to walk in the miraculous, operate with the power of the Holy Spirit, and open up the atmosphere of glory – the heavenly realm where she believes heaven can come and invade Earth.
Where we are headed in our schools, our churches, our families, we will reach a point where we must walk in the supernatural. Many are in need of a personal breakthrough, miracle, healing, or deliverance.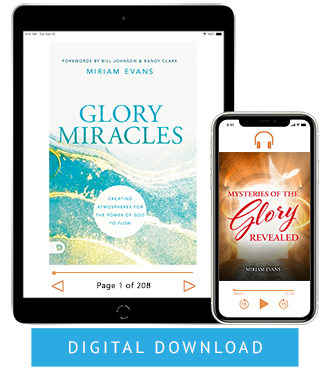 Through personal examples from her encounters with God, Miriam will teach you how to create atmospheres of glory that saturate your home, workplace, and school, leaving you hungry for more of God and activating you to live a supernatural lifestyle. You will experience miracles that happen quickly, easily, and even accidentally.
Through this special offer, you will…
• Discover the power of your testimony
• Experience a fresh baptism of fire
• Walk in higher levels of God's glory
Miriam Evans travels travels nationally and internationally for revivals, miracle services and conferences. Her and her husband are the founders of Revival Mandate International whose mission is to see Jesus glorified through the power of the Holy Spirit.
---