Following The Footsteps of Rabbi Jesus into the Courts of Heaven, I Speak to the Earth & Commanding Prayers of Breakthrough (2 Books & Bonus CD) by Dr. Francis Myles; Code: 9912
Following The Footsteps of Rabbi Jesus into the Courts of Heaven, I Speak to the Earth & Commanding Prayers of Breakthrough (2 Books & Bonus CD) by Dr. Francis Myles; Code: 9912
Open the Door of Limitless Breakthrough!
Dr. Francis Myles in Following the Footsteps of Rabbi Jesus into the Courts of Heaven will mentor you to learn how Rabbi Jesus opens a door for you of limitless breakthroughs as the law of Moses is seen in light of God's grace. Understand how Jesus as the semikhah rabbi speaks with a special authority to be your personal advocate and lawyer in the Courts of Heaven. See how Satan is allowed legal access to the Courts of Heaven to accuse and prosecute believers day and night according to Revelation 12:10. But you can silence his voice and get a verdict of innocent, contend with power against the blocking spirits that are delaying and preventing your healings, miracles, and full destiny. Get armed with 22 powerful prayers that are written right from the rabbinical tradition of Jesus.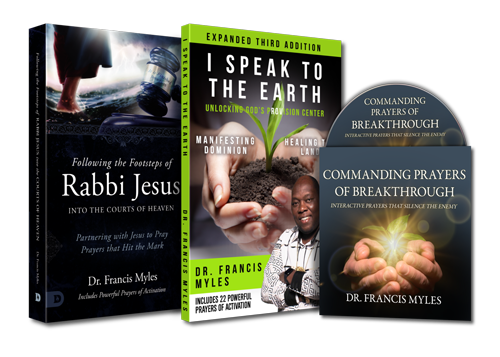 Bring Healing to Your Land!
With Dr. Francis Myles book, I speak to the Earth, you'll learn how to release powerful revelations of dominion over the earth. Bring healing to the land where you live and much more. And with his exclusive bonus audio CD, Commanding Prayers of Breakthrough: Interactive Prayers that Silence the Enemy, you'll be equipped to speak to every need in your life and have victory. Battle and win over anxiety, depression, healing, and get breakthroughs. Find confidence and boldness to move in anointing power and miracles.
---